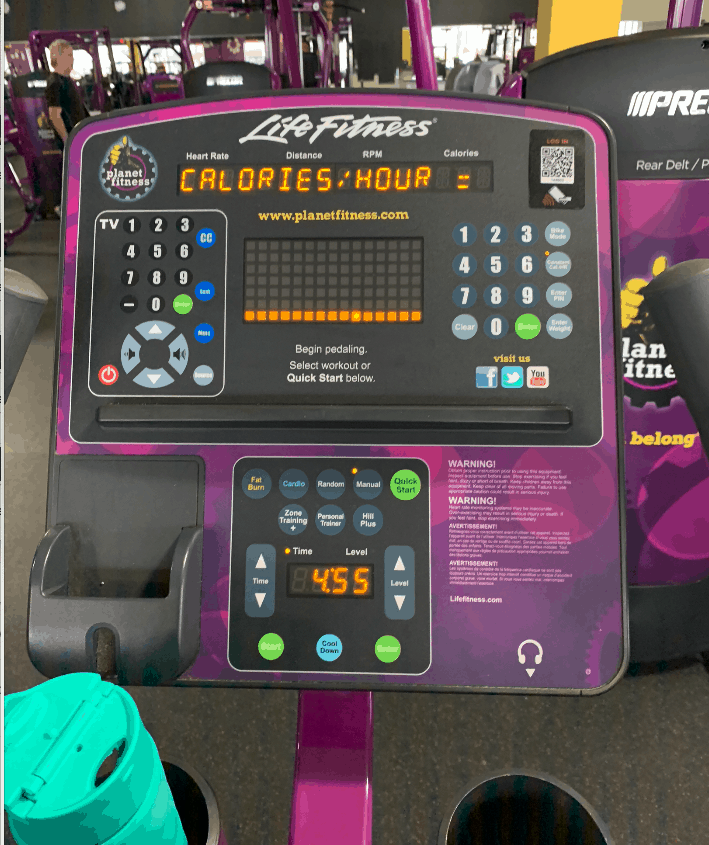 A few weeks ago I posted a little challenge that I had set up for myself. My December physical came with some not great news when it came to my blood pressure in that it was way too high. My doctor gave me 90 days to get it back down to an acceptable level or I would need to go on blood pressure medication.
I won't get into the long diatribe about why that's such a big deal for me (I go into it in more depth in the original post) but suffice to say that it was NOT going to be happening. So I set a goal of making sure my March follow-up appointment was a positive one. And that I would leave there with the "all good" seal of approval.
After I got home from our trip to Palm Bay, FL I paid for a yearly membership at my local Planet Fitness and set a goal of going everyday and doing 30 minutes of cardio (Dr.'s recommendation) from then until our trip to Tokyo, which meant going 36 days in a row.
For someone who was currently sitting at 0 days at the gym, ramping up to a month+ of daily visits was daunting, to say the least! I knew I had a really difficult challenge ahead of me and it would involve really changing my lifestyle to accommodate this. But I also knew that I really wanted it and I wanted to reach the goal of a positive result in March.
So how did it go?
Results of the 36 Day Ultimatum
I am proud to say that I made it every day of my 36 days (you can check the history on my Instagram Stories as I made sure to check in each day as proof). It was INCREDIBLY difficult a few days, especially when I felt overloaded with work or errands to do. But many of those days I thought about how I would miss a check-in on Instagram (I know, right? What a weird world) and I didn't want to!
I started the first week going hard on the stationary bike as it was the machine I was most comfortable with. (The back of my legs KILLED any time I did one rotation on the elliptical and I really cannot run on a treadmill without feeling off-balance.) But then I slowly transitioned to a week of power walking on the treadmill.
But I kept eyeing up "the death machine" as I called it, but you might know it better as the Arc Trainer.
I liked the concept of it as it's a lower impact machine than the elliptical. And it seemed like something I might be able to do. But the first few times knocked me on my butt (figuratively, thankfully). I was only able to do 3 minutes on it at the lowest setting before the tops of my legs felt like they were going to break off. From there I would go back to the treadmill.
Except I kept trying and finally made it up to 7 minutes. Then 10…then one day I went for 15. But I decided to keep going and see how close I could get to my 30. And I hit 30! Now the Arc Trainer still kicks my butt, but I've actually moved on to more difficult settings and am making even more progress (and sweating like it's what I get paid to do. I am gross!)
The Blood Pressure
For the first few weeks, I would use those Digi blood pressure machines at the pharmacy in our grocery store or when I was picking up medication refills at Rite Aid. The problem was that I would get psyched into it and feel nervous about the results. Which increased my blood pressure, which resulted in higher readings.
Nonetheless, my blood pressure readings started to go down and I began to see progress!
After we got back from Tokyo I picked up a well-rated blood pressure cuff from Amazon that was only $30 and it made a world of difference. I began to check my blood pressure daily around the same time and on the same arm so that I could better track the data.
Here are the results (L and R refer to the arm I used)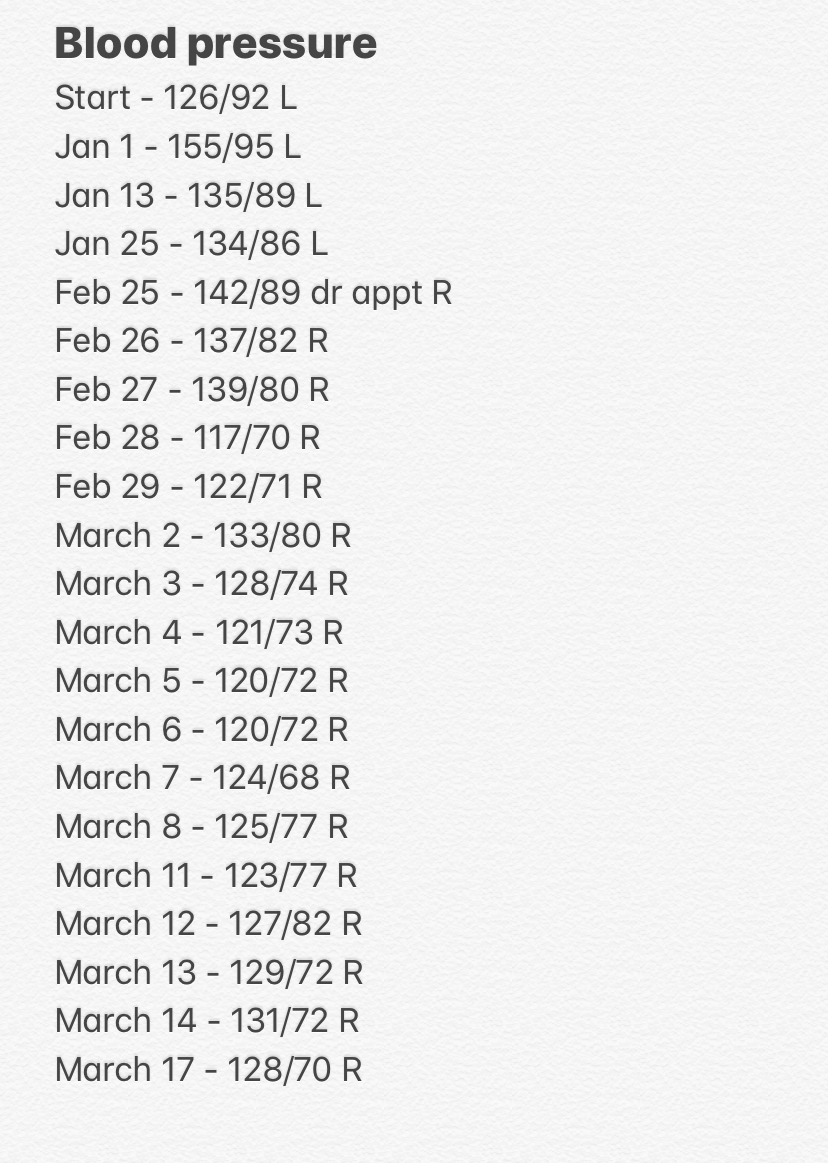 The 90 Day Check-In
I'm currently writing this the day before my actual check-in. But I'm confident enough that I know I can write this now and just come and update it later. My doctor is a hell of a nice guy. And I cannot imagine he wouldn't be happy to see this progress I've made. So I'm banking on a clean bill of health.
Update: He's happy, I'm happy, there are no new pills to take. MISSION FREAKING ACCOMPLISHED, YOU GUYS!
The Reward
One thing I didn't mention in the previous post is what I would do if I accomplished this. I'm normally not one for crazy material things (as I've mentioned before) but I knew my beloved Fitbit Charge 2 was on its last legs. I wanted something that I felt would track my heart rate more precisely.
So I decided that if I made it all 36 days + got the clean bill of health from the doctor, then I would buy a new Apple Watch Series 5 (40mm) (I felt like the 44mm was just too much and I wanted a smaller one so I had less chance to bang it on things).
BAM:
I had planned to go directly to the Apple Store and get it. But now that they're all closed due to COVID-19 I had to default to Amazon.
Results of the 36 Day Ultimatum: Onward
What I'm happiest to report is that, even though the challenge has ended, I've still been going to the gym and working more on strength while still getting in my cardio. During the challenge, I didn't touch any weights or weight machines. My goal was solely to do what my doctor recommended and to get my 30 mins of cardio. Also, I didn't want to complicate the process. The easiest I could make going to the gym, the higher chance of success I had. So I tried to keep it as simple as possible:
Go to the gym, use the cardio machine of choice for that week, go home.
My Playlists
I have to warn you that my music tastes stopped at around 2002. So I don't listen to a ton of new music. But I've made copies of my playlists available on Spotify to help getcha going. I usually stuck to the "Cardio" and "Workout" playlists the first few weeks and while I was on the treadmill. But the "NIN Workout" playlist was the driving force getting me through 30 minutes of the Arc Trainer.
Let me just say And All That Could Have Been is the perfect companion to going hard on a cardio machine.
The Outfits
This post wouldn't be complete without a peek into the looks I was rocking, right? Clearly this was not about being a fashionista, so I didn't try to get fancy with this.
Most of my clothes were sourced from thrift stores which I've found to be AMAZING sources of leggings, workout tops, and yoga pants. I picked up some Fabletics, Avia, Adidas, and Calvin Klein Performance leggings. But I have to say that my favorite brand of workout pants? Old Navy. Seriously! They were super comfortable, fit my lumpy body, and stayed in place during serious leg sessions.

As for sports bras, I have a weird issue with my shoulder that makes it difficult to take off one piece sports bras. So I really try to limit buying those. Instead, I opt for sports bras that have zippers in the front and good coverage that don't end up just looking like sad sacks of boob. This one was my absolute favorite and has been through a LOT of high-impact workouts (it was my go-to bra for kickboxing). Though I recently picked up this bra in every color because it was so cheap and was exactly what I was looking for!
My shoes every day were Brooks running shoes. Ssually the Ravenna though I did rock some Ghosts for a few days. The Ravenna just felt the best on my feet and made me feel less clumsy.
Lastly, I had these headbands by Maven Thread on every single day to keep my bangs out of my face. They stayed put for the most part, though I sometimes felt paranoid that they were slipping up. But when I adjusted them it didn't seem to be the case. They were also good at they didn't come down too far and mess with my AirPods. I went one day without my own music and it was not a good time!