Mr. and I spent 9 years bebopping around New York City, cutting our chops and trying to survive the subways, (especially during SHOWTIME). We loved living there; we got married in Brooklyn City Hall, made amazing friends, and learned a lot about each other, but we knew it was time to go in 2016. We had an opportunity to move Upstate and buy a house (with a yard, OMFG) and just knew it was time to set out on a new adventure, but I never regret our time in Brooklyn. I see a ton of NYC travel guide blog posts in the world, but so many seem to be from people who are spending a week and doing only the touristy stuff.
Let me tell you: in an expensive city, the tourist trap stuff is the most expensive. So, if you'll allow me, let me give you some ideas for "slightly touristy" to "not very touristy at all" for an upcoming trip to New York (and yes, some of my favorite "uber touristy" things are included, too. I'm not a zealot!). There's a caveat to this, though: NYC is a city full of people and it will be rare that you end up having a spot completely to yourself, so don't expect to have a solitary moment for very long.
Also, in my experience, most New Yorkers are very helpful if you ask. Keep in mind that this is a tough city to live in, and while we want to make sure you're enjoying yourself, we're also in a hurry to get our shit done. So first thing first:
How to Ask a New Yorker for Help
Don't be intimidated, but realize the environment you're in: New Yorkers get flyers shoved at them, requests to stop and chat about the environment or some other political issue, and people asking for chain daily, so most of them will have tunnel vision and/or a seemingly direct walking path, so it may be hard to get someone's attention right away. The best thing to do is head to a street corner and catch someone waiting for a light to change. Ask a question quickly, but politely, and you'll be able to find your answer more times than not (sometimes more than you asked for if you hit the right topic by someone passionate!).
Good examples:
"Excuse me, how far is 45th and 6th from here?"

"Excuse me, do you know which subway I can take to get to Union Square from here?"
Bad examples:
"Excuse me, where's the Italian restaurant?" (answer: there are at least a dozen in whatever neighborhood you happen to be in, you'll need specific names)

"We're trying to find something to do, what do you like here?" (Sometimes you'll hit an answer here, most times, though, it's too overwhelming of a question in a short period of time to answer)

"Is it dangerous here?" (Experiences vary for every person on the same square pad of concrete. If you're nervous, stick to the busy parts of the city. If you want to explore, please do so! NYC is vibrant, but doesn't suffer fools easily, so have an idea in mind and hop to it).
Where to Eat in NYC
The places we used to frequent, and still do on trips back home:
Veselka – I love the sweet potato pierogies, Steve loves the meat plate. They're open 24 hours and are notorious in our family for having lackluster, apathetic service. YMMV on that, but go in there expecting to wait a bit for your food.
Capital Grille – We went here for my 30th birthday and it is super swank, and consequently pretty spendy. How swanky? They have lockers for regulars to store their preferred bottles of wine. Didn't look like they were big enough to hold a box of Franzia, though!
Blue Smoke – A quintessential upscale BBQ joint in the Flatiron District. You'd be hard-pressed to find anything bad on the menu, and after dinner you can go downstairs to the jazz club for a stiff cocktail and to catch whoever is performing.
Hill Country BBQ – Another contender for top BBQ in the city, with a casual ambiance. This might be your choice if you want a more dressed-down option than Blue Smoke. The extensive bourbon and cocktail list makes this an indispensable date night attraction, though vegetarians might want to head somewhere else.
Dos Caminos – a TexMex chain, good sized burritos for lunches.
Hale & Hearty – I truly miss my Corn and Lobster Bisque which was such amazing comfort food on rainy days
Chop't – Made to order salads, you probably have something similar around you, but the sizes were generous and the veggies were fresh.
Big Gay Ice Cream – "slightly touristy" to "full on touristy" depending on the time of day. My favorite was always the Salty Pimp in a cone, but Bea Arthur was also a good staple.
Dallas BBQ – Uber touristy, but dammit, we can't help it. The prices were decent and the drinks were large.
Peter Luger's – Swanky steakhouse in Brooklyn. I could never afford it, but if you can then you should go (and also, adopt me). Also, note that they don't accept currency but instead have their own you'll need to buy into…like a Dave and Buster's, but with a sense of (well-deserved) smugness.
The 13th Step – Dive bar that's not a dive bar. Decent prices for beer and you can usually find a seat. There's one near Veselka if you need to wait a while for a table
Shake Shack – Always incredibly packed, decent food. I put it here because it's a staple, but to me isn't essential.
Big Daddy's – In my opinion, a better alternative for shakes and burgers, plus they have alcoholic shakes and happy hours.
Maries Crisis Piano Bar – My most beloved bar in all of NYC. It's a gay piano bar where drunk patrons belt out show tunes.
Spice Thai – a chain of Thai food restaurants around Manhattan. Good middle of the road Thai food (I was always partial to their Holy Basil)
As far as pizza goes, I can't weigh in because I love all pizza equally. We usually would order from Vesuvio in Bay Ridge since they delivered to our apartment and had good deals, though Pizza Wagon was supposed to be amazing, too.
What to do in NYC
Stonewall Inn – Have a little bit of history with your trip and visit the bar where the LGBTQ+ fight for equality began. It's still a working bar and is usually packed (also, kinda dive-y).
Brooklyn Botanical Garden – Central Park lite. Head here for the amazing cherry blossom trees and amazing collections of plants and flowers. It's always heavenly and peaceful.
Brooklyn Bridge – Whenever we would take guests over, we usually started on the Brooklyn side and would walk down to Chinatown and Little Italy.
Canal Street – For those who are looking for some Ralexes or Jimmy A-Choo's, this is where most of the knock off stuff can be found (closer to Little Italy), as well as t-shirts with questionable slogans and varying levels of taste (think Myrtle Beach shops)
Smorgasburg – Run by the founder of the Brooklyn Flea, this is a food truck heaven. Lobster rolls, tacos, and who knows what else is there now! All of it is amazing and it's a cool way to support small businesses.
Brooklyn Waterfront Greenway – If you want a trek, follow the cement path that runs alongside the river. I've never been the whole way, but I've been around the Piers and of course Bay Ridge, and all of it is just a nice reprieve from the craziness of the City.
Central Park – It's so stereotypical, but I love Fall in Central Park. Any time of year, though, is lovely and is a great respite in the middle of a crazy city. Not into it, but still want some greenery? Head to Brooklyn for Prospect Park (near the Botanical Garden)
(Holidays) Shops at Columbus Circle/Union Square/Bryant Park – These are full of amazing food stands and vendors, and are great for unique gifts. Columbus Circle and Union Square usually have more "artisan/handmade" stuff (due to the lower cost of booths there), while Bryant Park has more mainstream stuff.
Museum of the American Gangster – I never went to this, but Mr. and his Mom did. Apparently, it involved cool tunnels and underground stuff, even involving wearing hard hats (maybe not anymore)
Grand Central Station – Check out the ceiling mural and find the corner which turns your whispers into a normal volume.
5th Ave (near Central Park, usually in the 50's streets, like 57th street and 5th avenue) – If you want to have your Breakfast at Tiffany's moment. Harry Winston, Tiffany's, Henri Bendel, and other luxury department stores are in this area.
Statue of Liberty/Liberty Island – Tourist alternative: Take the IKEA taxi from the south of Manhattan, which will take you over to IKEA in Red Hook. The ferry is free and goes directly past the Statue. You can also head down to our old stomping grounds, Bay Ridge, and head out to the 69th street pier for an amazing panoramic view of Staten Island, the Statue, New Jersey, Manhattan, and Brooklyn. (Take the R train to 65th St and walk west towards the water).
Helpful Stuff
Nonsense New York – "underground" list of off-the-beaten-path parties and things to do. Updated weekly.
Brooklyn Spaces – similar, but covers an array of more permanent spots and things to do. Oriana, who is amazing, works so hard to curate this blog (even though the poor woman had to come to my home and interview me! Blessings.)
Curb (Taxi App) – like using Uber but for Taxis. I like to use it to pay so I don't have to spend time getting my card swiped and waiting for it to go through.
What to Pack for a Trip to NYC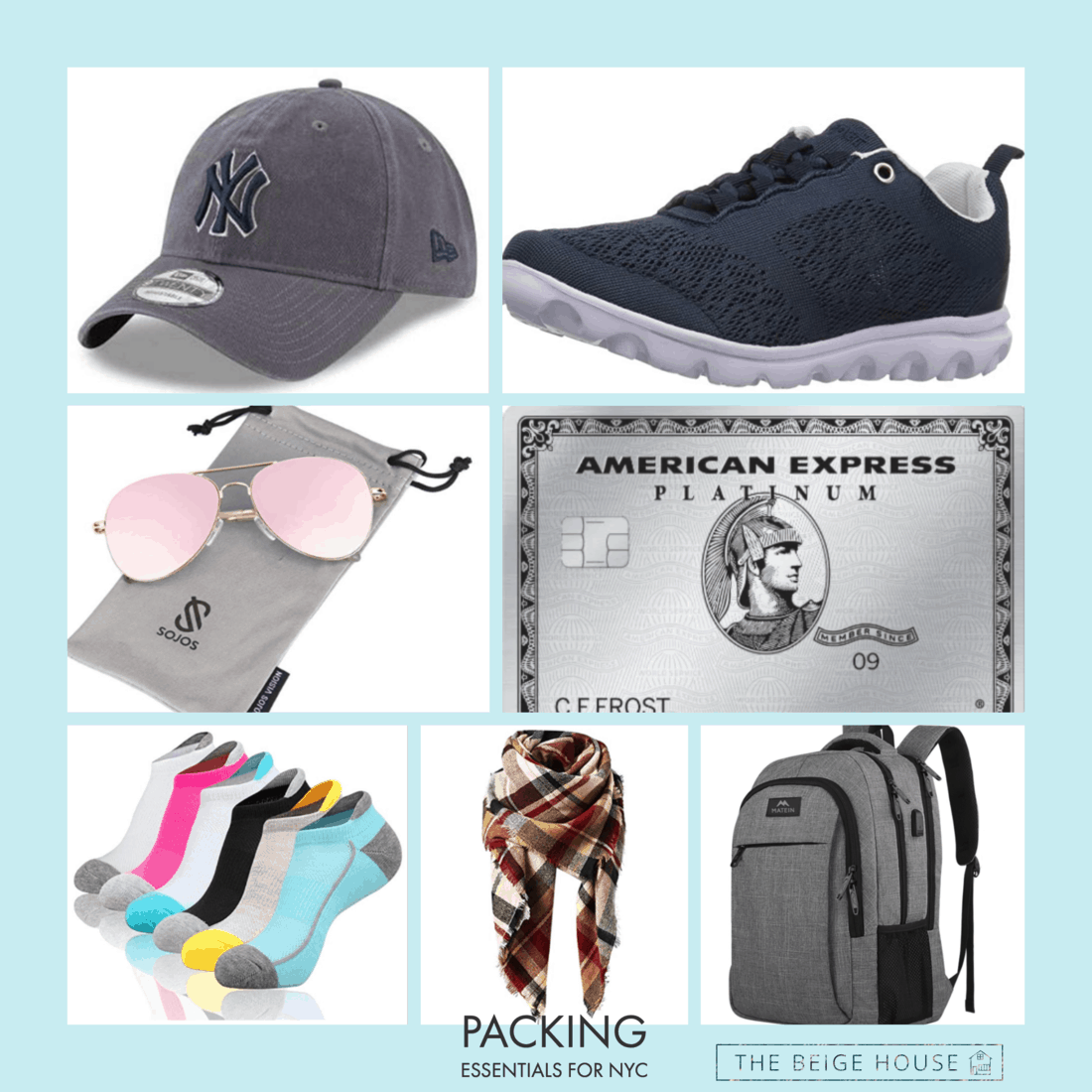 Walking shoes – don't be cute with this, be comfortable. More times than not, you'll end up walking to your destination, especially in Manhattan. Bring the heels for a special night when you'll be taking a taxi, but make sure you have comfy sneaks or boots for the rest of the trip

Comfy socks – same reason as shoes. The more padding on your feet, the better.

Sunglasses – Helps keep debris out of your eyes, and also the glare of the sun at dusk on the skyscrapers can get intense in the summer.

A hat that fits – streets between tall buildings can turn into wind tunnels, especially during the fall and winter, so if you're going to wear a hat or scarf, make sure it fits your head well, otherwise you might end up chasing it.

Face protection (winters) – It gets NASTY in those wind tunnels Jan – March, so warm scarves or face masks are smart things to pack.

Backpack – I always preferred this to a purse, especially if we were out and about for a day. 

Credit Cards – the majority of places will take credit cards (especially now that Square is readily available) so I would recommend using a cc in place of cash when you can. If you lose it, you're not out anything but a phone call and you can earn points or cashback on a lot of stuff. When we travel, I take three credit cards:

American Express Platinum

for most purchases,

American Express Gold

for restaurants (4x points!), and

Chase Sapphire

for places that don't take Amex.

Cash – If you're planning on heading to Canal Street and getting knock-off stuff, you're going to need to pay cash. Also, many ethnic restaurants that are holes in the wall may not accept cash though many are coming into the 21st century and giving up their sketchy "cash only" practice. If you're just exploring, though, and will be using credit cards mostly, I'd say taking a reserve of $100 for a 2-3 day trip is good.
Should I Worry About:
Pickpockets – Generally, no, but it's your responsibility to be aware of your surroundings. In tourist-heavy areas there are most likely people who are looking to make an easy score on an oblivious tourist. Keep your phone and wallet in your front pocket or in a bag with snaps/zippers. Keep the zipper tab in front of you rather than behind you. Also, don't leave your phone/camera on a trash can to take a selfie or anything else that you'd feel dumb about if it resulted in your stuff getting stolen.
Getting Taken Advantage Of/Ripped Off – Again, your mileage may vary, especially if you're participating in acts like shopping for knock-offs or bootleg DVDs, but generally no, most people are just trying to go about their own businesses, and as long as you're aware and aren't afraid to walk away when something doesn't feel right (please never hesitate to do this), you should be alright. Another shout out here for the Curb app, as it can help relieve feelings of getting ripped off by cabbies (though I never had an issue with this).
Getting Lost – Even New Yorkers carry city maps with them, so don't feel like a n00b picking one up. Make sure it includes the subway lines, too (you can usually find these maps at Grand Central, Penn Station, and most tourist shops), or keep your maps app accessible. It's also very easy to ask for help.
NYPD – I cannot say with authority that you'll be fine, but I think you will be. Consider, though, that I am a white woman who mostly kept her head down, her route clear, and any time I dealt with Police it was in a helpful manner. As a tourist, the NYPD will most likely be very helpful and willing to guide you to your destination, and the practice of Stop and Frisk has long since been removed, but there are bad eggs in the Department. I wouldn't go to New York expecting to be stopped, especially if I'm just heading around Manhattan, but I know it's something POC can worry about, so I wanted to bring it up.
Gangs/Violence/Mafia – Again, I can't say "never" but will say with 98% assurance you won't have a problem. As always, be aware of your surroundings and mind your own experience ("mind your own business" feels too severe here, but you know what I mean).
Parking My Car – Yes. Please don't bring your car if you don't have to. The speed of taxi drivers flying past you, the stress of keeping an eye out for jaywalkers, and the sisiphysian task of finding a parking spot that won't require you to move your car early the next morning (street cleaning is usually 2x/week) is added worry that's totally avoidable. I promise you getting around via subway and walking will get you 90% of the places you want to go. For the other 10%, ubers and taxis are plentiful and way cheaper than dealing with parking tickets and stress.
Tips I Gave My Mom When She Came to NYC
Don't make eye contact on the subway – Simply put: you never know who's crazy. Keep your eyes down and mind your own business. If you're nervous about this, wear sunglasses or bring a book.
Don't meander in the middle of the sidewalk – There is a certain speed most New Yorkers walk and it's relatively fast. While they won't expect you to keep a good clip while sightseeing, be aware of your pace and surroundings and try not to cause a pile up in the middle of the sidewalk.
Always be aware of your surroundings – This wasn't so much for safety as it was for other people. Avoid making abrupt stops on the sidewalk or taking up too much space too suddenly as you're likely to get bumped and shot a dirty look.
Take the subway, not the bus – This is just a personal preference, but my thinking was that if I ever got lost on the subway, at least I would be IN a subway station, and there would be another train coming to take me back shortly. On the bus route, I felt very exposed waiting on the streets and less comfortable than I was inside a station.
What's the Deal With…
"SHOWTIME!" – Usually on the subway, though sometimes on the sidewalks (near lower Manhattan or Williamsburg and Bed Stuy) and is a group of teens doing some crazy tricks and kicks along to music. The music is usually loud and the kicking will make you nervous to be in their vicinity. If you see them coming into your car, try to move away from the space they'll be performing in. They ask for tips after each performance. (Note – technically they're not allowed to be doing this on the subway, nor are beggars, but it is what it is)
Express/Local – There are Greyhound-style busses that will be "Express" and these were very helpful when I lived in Bay Ridge and needed to get to Midtown in a hurry (and was feeling fancy since they were ~$9 each way). If you get on one of these, they will accept cash or a Metrocard as long as it's not a monthly pass. Express subway trains skip "minor" stops along their route, while local pick up every stop. Both routes are the same price. There are occasions that a local subway will go express (sometimes for a particular time of the day like rush hour, sometimes it just feels like the whim of the conductor), so be aware of the stop you need. If you accidentally get on an express and need a local, you can simply get off the train and wait at the platform for your next stop.
Characters in Times Square – Knock off Elmos and Minnie Mouses. You'll usually see them corralled in designated areas. They're there to take pictures with. They expect tips in exchange for pictures.
Mitzvah Vans – To me and my family: Annoying men questioning your faith and getting in our way. They're Jews who are….okay, see, I don't know what the point of them is, other than to irritate my husband. I guess they're like the equivalent of Jehovah's Witnesses who are looking to beef up their congregation numbers and to preach to those who practice Reform Judaism the error of their ways. If they stop you to ask if you're Jewish, just keep walking and save yourself the aggravation. If they DON'T stop you, consider yourself to be too far gone in their eyes, Jew or Gentile, and wear it as a badge of honor.