Part 1 of 3 part series. Part 2 | Part 3
Mr. and I are not ridiculously wealthy. We're both freelance writers, you know? It's not like we're rolling in the dough.
However, when we travel, we now make it a priority to travel comfortably, as…well, just because the opportunity is there, so why not!
With that said, we wouldn't be able to do 1st class or luxury suites on our own. Here's how we finagle these fancy schmancy upgrades.
How I Do Super Fancy Travel on a Tight Budget
Loyalty Memberships
We're in, god, like 10 different loyalty/mileage memberships, though I really only focus on three (so I can knock out miles and get better status upgrades): Marriott Bonvoy, United MileagePlus, Delta SkyMiles. Most people aren't a fan of Delta's crappy SkyMiles value (you'll see them referred to a lot as "Sky Pesos"), but they're one of the few airlines that fly out of our airport with direct connections to where we usually go. Marriott, to be honest, has lost a lot of good feelings with us due to the downgrades they've given to Gold Elite and lower members (once the SPG merger was complete), but like Delta, they're usually the chain with the most options when we want to travel.
Also, one thing to mention, I usually book directly with the airline or hotel chain, rather than using something like Expedia. By booking directly, I get to take advantage of any status I have and accrue more loyalty points. This usually isn't the case when you book through a third party and I've never really noticed a significant difference in price.
Advice: Sign up for every potential travel club you can, as many of them are transfer partners for one another (example: we used Virgin Atlantic's Flying Club to book travel on ANA to Tokyo), but try to focus on only one or two that will give you the most bang for your buck.
Planning
We rarely travel on the fly (ha!), so when we know we have a trip coming up, I take time to plan out how to maximize our resources to our advantage. Sometimes, though, I end up feeling like this: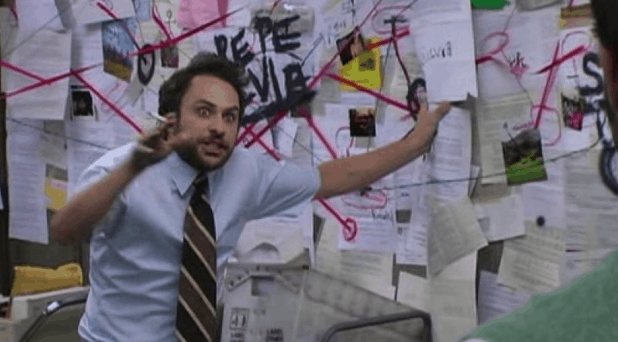 My advice: Spend time looking at possible deals, travel partners, and off-peak seasons if on a tight budget. Our wedding anniversary is in February, so when we go somewhere to celebrate, we often find good deals. Some of my favorite places to go are awardhacker and reddit's awardtravel sub.