And so we have begun our new tradition of lavish vacations for our wedding anniversary. We've been saving up credit card points to fund these trips, and while the points could probably go further if we cut back on the luxuries, we just don't have the time to travel more often, so we go big.
Cancun Mexico Travel Diary
I booked our trip to Cancun in October 2018 when I got a notification that Vacations by Marriott was having a deal. I had heard good things about the perks of using VbM on Reddit, but if I had to do it all over again, I would've booked directly with hotels and airlines.
The big pull with Marriott was our elite status thanks to our American Express Platinum card, but the bonuses we enjoyed (free breakfast and club lounge access) were removed once the SPG/Marriott merger completed. My fault for not paying attention, I guess. But that was a rude awakening since I chose Marriott over the numerous all-inclusive resorts. All in all, we ended up spending what we would've spent had we gone all-inclusive. So I recommend shelling out the extra dough upfront.
The Hotel
That's not to say that our hotel was horrible. We stayed at the Aloft Cancun which was on the edge of the clubs and restaurants part. It was in a good location for checking out sights, and the rooftop pool was lovely. They also surprised us with long stem red roses, a bottle of sparkling wine, and a note congratulating us on our anniversary.
But nothing compared to the view of the water. And not even the view from our hotel room, really, but just the color of the water. I had never been to the Gulf side of Mexico before (we went to Tijuana when I was very little, and all I remember is trying to scramble up my grandfather while little boys tried to sell me things), and now that I think about it, I'm not sure if I've been on the Gulf side of any place, but the water was just something else. I'd wake up every morning, roll up the blinds, and just stare at the water.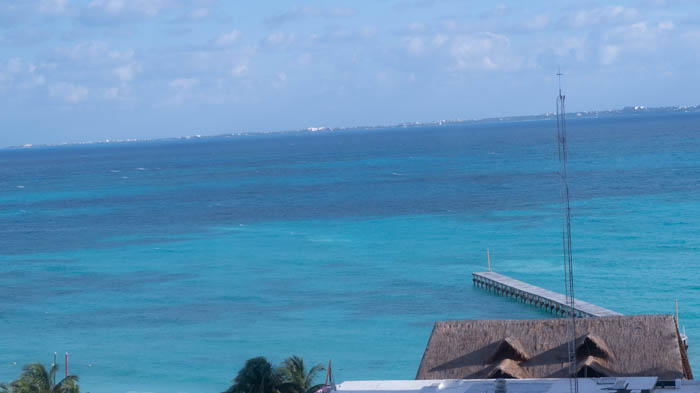 Tourist Attractions
For our touristy stuff, we went on the Jolly Roger Pirate Ship (recommend), the Chichen Itza tour (also recommend), and Mercado 28 (do not recommend because you will end up poor). The highlight of the trip, though, and I know the level of cheese is high here, was being able to spend time together away from everything. The weather was amazing, our Spanish came back to us the longer we stayed, and everything just felt blissful.
I'm slowly trying to talk Steve into getting a place in one of the expat towns down there. But I know it's a hard sell right now. For now, we'll plan to further explore Mexico in our upcoming trips. The next stop is either Mexico City or Puerto Vallarta. Thoughts?