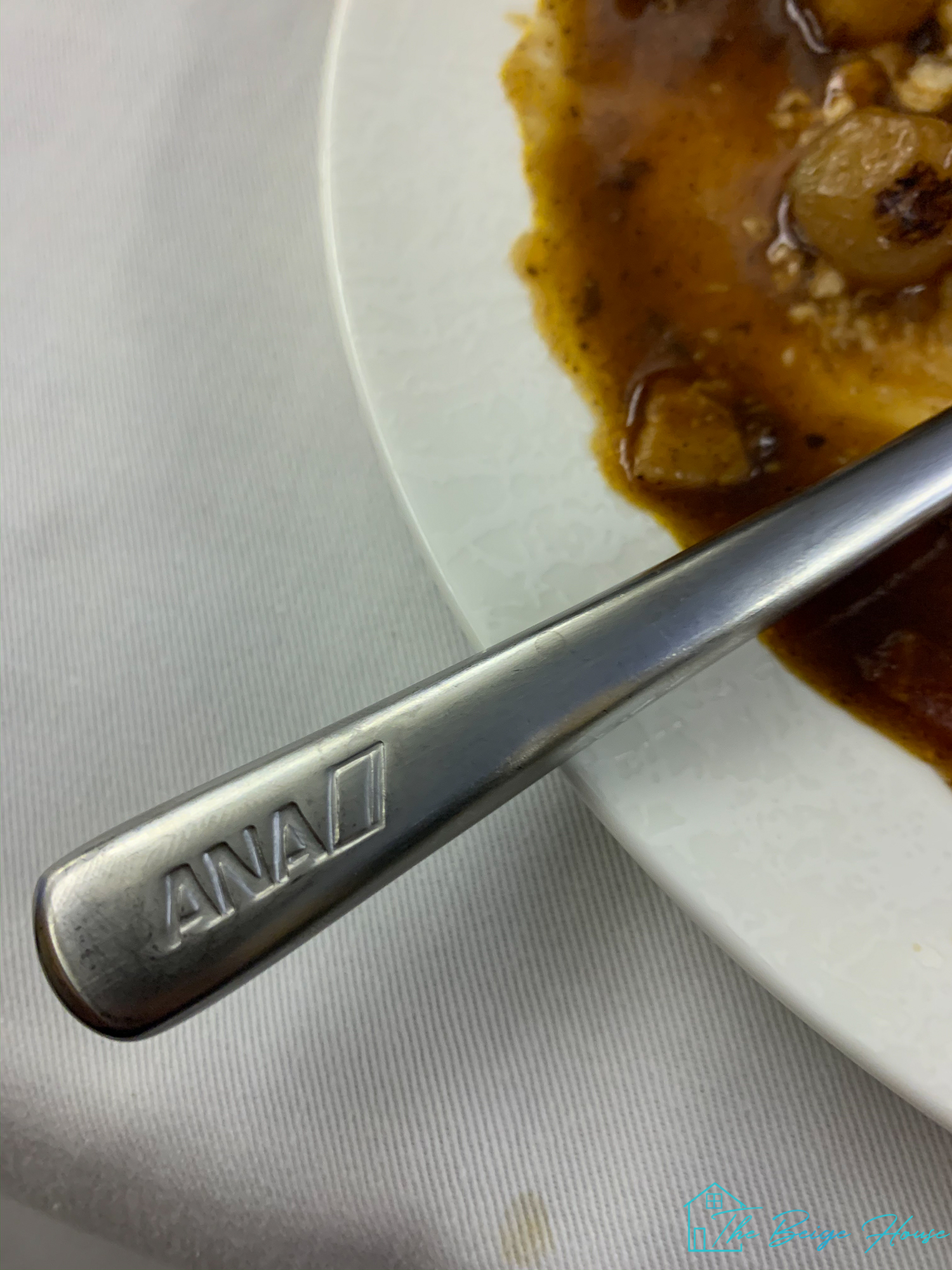 And now, for the final recap of utter decadence that was our 10 year wedding anniversary trip to Tokyo, let me show you the world of International First Class Travel.
I had read reviews of ANA and their first-class experience well before we had decided to make the trip to Japan. But once we did, I knew that's the airline we'd use to get there.
Booking two First Class cabin seats involved some "A Beautiful Mind" level planning since their booking website is a bit cumbersome when it comes to booking award travel. You'd have to pick a day, an airport, and then cross your fingers that there were seats available. If not it would usually kick you back to the start and you'd have to navigate the route all over again (even if you ticked the +/- 3-day box).
What I found to be easier was to book the flight via a partner airline. I called (can't seem to do this online) Virgin Atlantic to book our tickets. Though, I was probably a frustrating client for the customer service rep since I didn't have a set plan before calling. We had to figure out which airport and dates would work best before he could look at the award chart calendar. So it took a bit of fenangling (my fault).
In the end, I transferred 180,000 American Express Membership Rewards to Virgin which had a bonus offer that ended up converting to 240,000 Virgin miles which was the amount we needed to book the tickets. All in all, I believe this equates to ~$32k for two tickets (which is why I seriously advocate looking into awesome credit card offers when they come!). But we only paid for a booking fee which I think was ~$150?
ANA Flight O'Hare to Narita Review
We booked our flight from Chicago to Narita and spent the night before our flight in Chicago just to be sure that nothing happened that prevented us from catching our flight (February weather in New York is temperamental at best). Our flight was scheduled to leave at noon so the morning of, we woke up and checked out of our hotel to head to the ANA window at O'Hare. We wanted to get there as early as possible so that we could get access to the Polaris Lounge and grab breakfast.
We got to the counter to see that ANA actually runs on set hours and wouldn't open until 8 am. So we had to stand around and wait for ~45 minutes.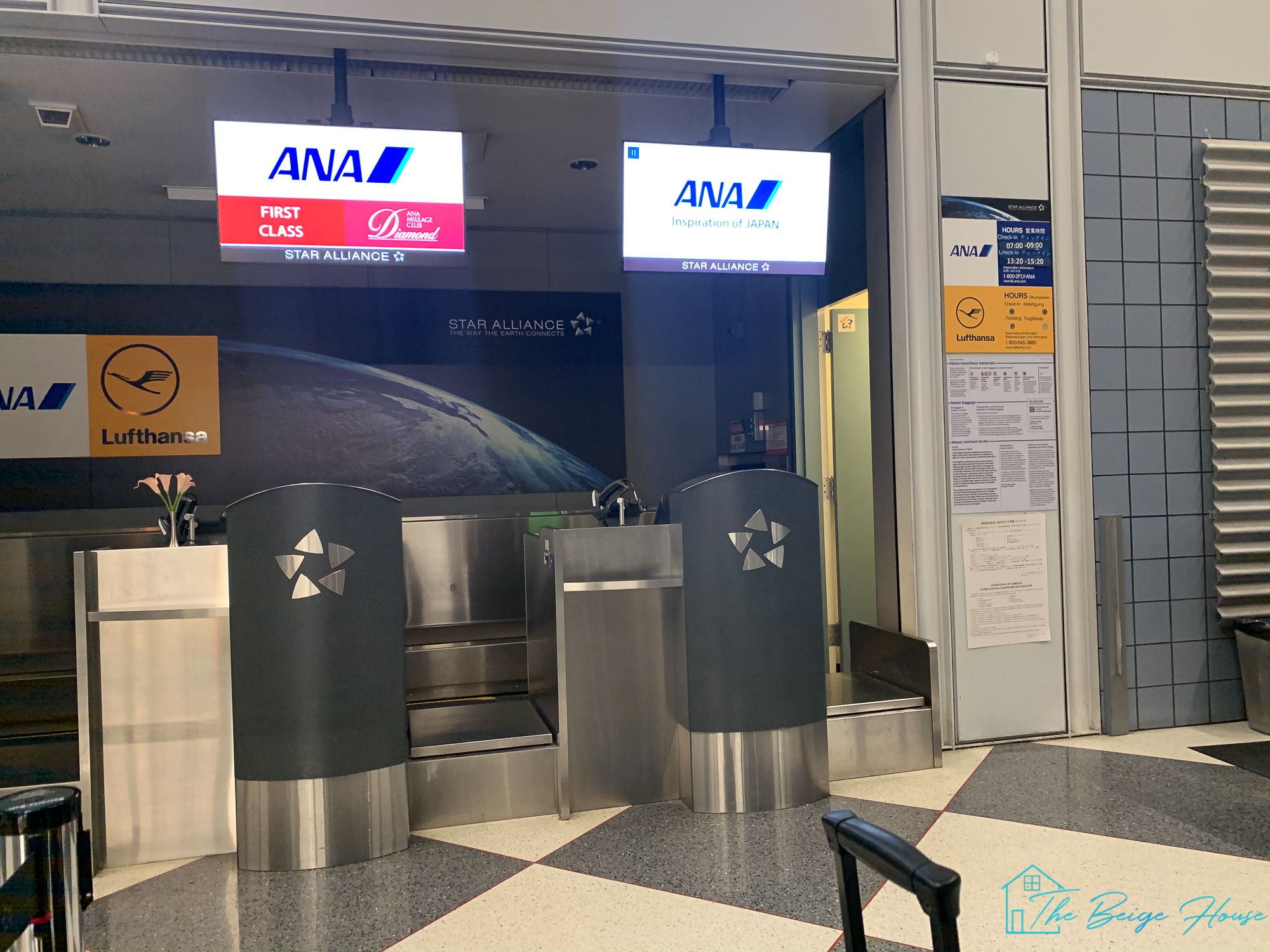 Once we were checked into the flight since we were First Class we were told that we could go to the express security checkpoint at the end of the airport, rather than wait in line. Little did we know, though, that we would've been much better off just sticking to the TSA Pre-Check line as this express checkout wasn't anything more than a smaller room with fewer people in line. The TSA agents were confused as to why we were there since we were Pre-Check so I had to admit I was just dumb and didn't understand.
So, pro-tip: if you're already TSA Pre-Check (which most reward credit cards now offer for free) don't go to the express security line, just stick to the Pre-Check line.
After we got through, we headed through O'Hare to go to the Polaris Lounge. Normally we wouldn't have access to this but it's an added perk for being First Class with ANA.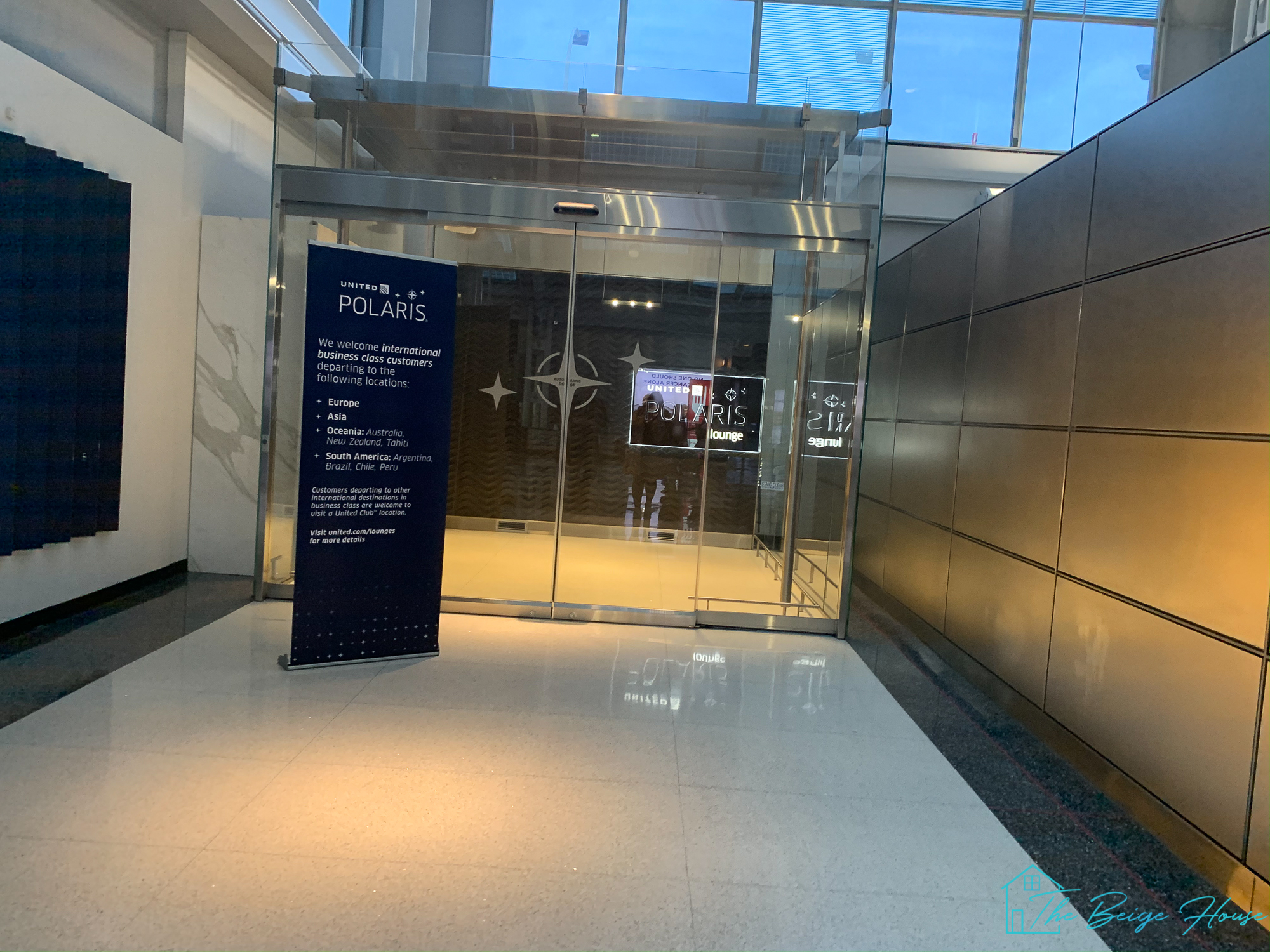 The Lounge was lovely and very quiet with a good breakfast spread. There's a coffee bar, and two mini-fridges stocked with soda and water bottles. We hung out there for a few hours and had breakfast, then made our way to our gate.
Boarding First Class on ANA is a different door than Business or Coach. And so we had to stand in a separate line. Steve and I were the only Westerners and I was the only woman in the section.
We were welcomed by the Flight Attendants and guided towards our seats.
First Class has 8 "cubicles" in a layout of 1 – 2 – 1. Steve and I sat in one of the 2-seaters. Though, we were mostly separated by one another and had to make a concerted effort to speak with each other through the window.
Each row had a dedicated Flight Attendant who would come and introduce herself, then unwrap the complimentary slippers. Each Attendant apologized profusely for having to wear a mask due to the beginning of the COVID-19 outbreak, which I thought was sweet if unnecessary; I completely understood the risks they were taking!
The care shown for First Class was something that I've never dealt with on any American, United, or Delta flight. I mean, they even had orchids displayed!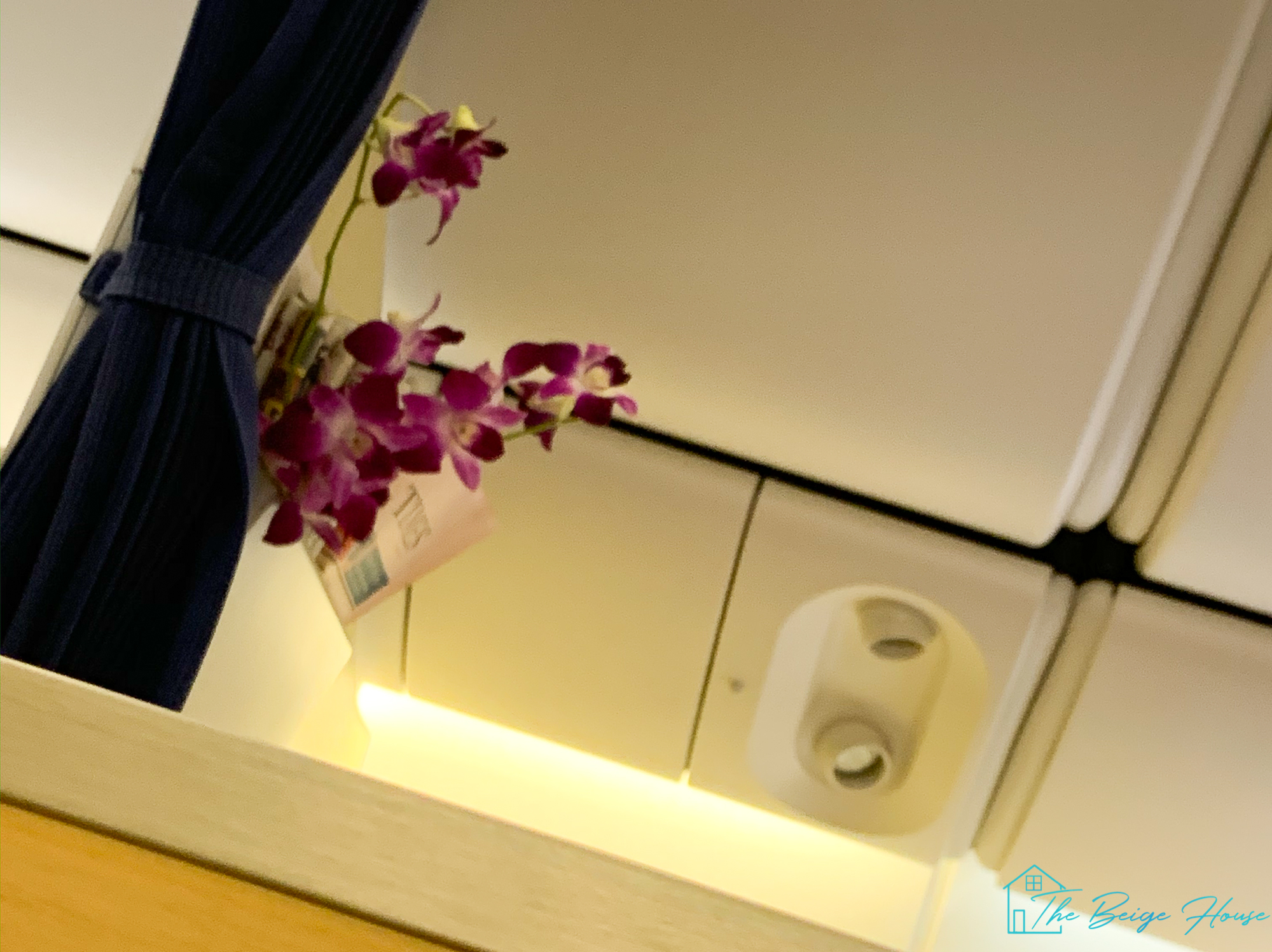 Our welcome gift was a small luggage case from Globe Trotter that held some toiletries, earplugs, and a skincare set by Shiseido's "The Ginza" line. It included a day serum, night serum, and foaming face cleanser. The Ginza products were also in the First Class bathroom full-sized bottles which ran $200!). We were also given loungewear which included sweatpants and a long-sleeved shirt. And a cardigan which were also ours to keep after the flight.
Before take-off, we were offered orange juice or champagne to enjoy.
I'm not sure which one it was from their menu. But if I had to guess I would say it was the Brut. After that, the Attendants came around with a basket of extra goodies if you were so inclined. I took a sleep mask (which I hadn't realized was already in my welcome gift, oops!) and a leg refreshing sheet that I had heard about on other blogs. I still haven't opened it so I can't say what it really is!
Each cube has a TV screen and SONY headphones that plug into the side wall. There are tons of little storage cubbies, reading lights, and a remote that handles the adjustment of your seat.
During take-off, we were shown a great safety video. I say "great" because it embraced the Japanese history and was really well-produced. I recorded it a smidge, here you can see what I mean (apologies for the muffled audio):
The Attendants then came around with the menus for both food and beverages. Prepare to have your mind blown:
And here's part of the beverage selection:
After we made our selections for our meal, the Attendants came around and set up our tables with white cloths and branded silverware.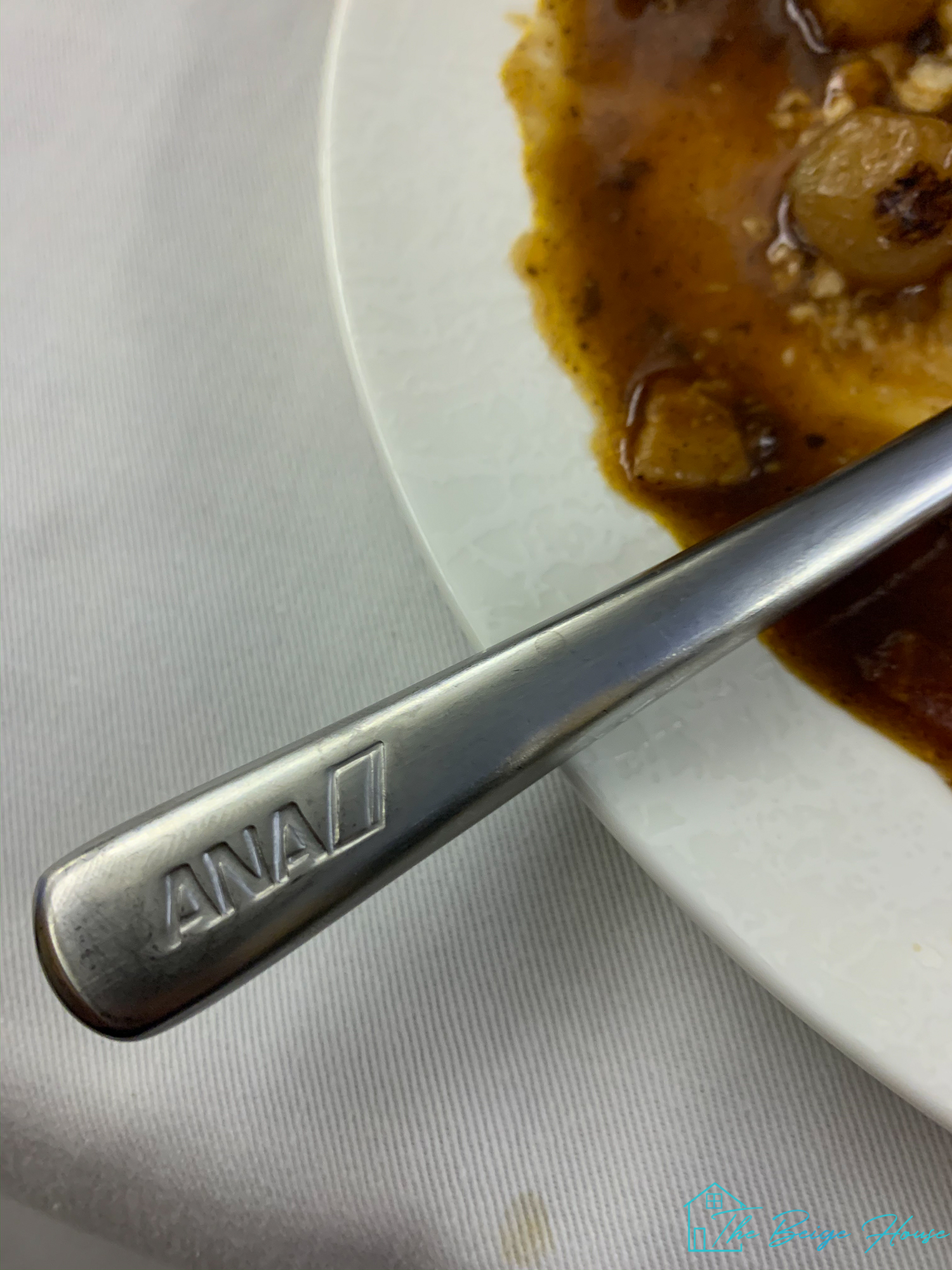 First, we were each given an amuse bouchée consisting of Smoked Salmond and Scallop Tartar in Bouchee Pie, Smoked Duck and Mandarin Orange Pincho, Grape and Cream Cheese Pistacho Ball, and a Cheese Pepper Bar: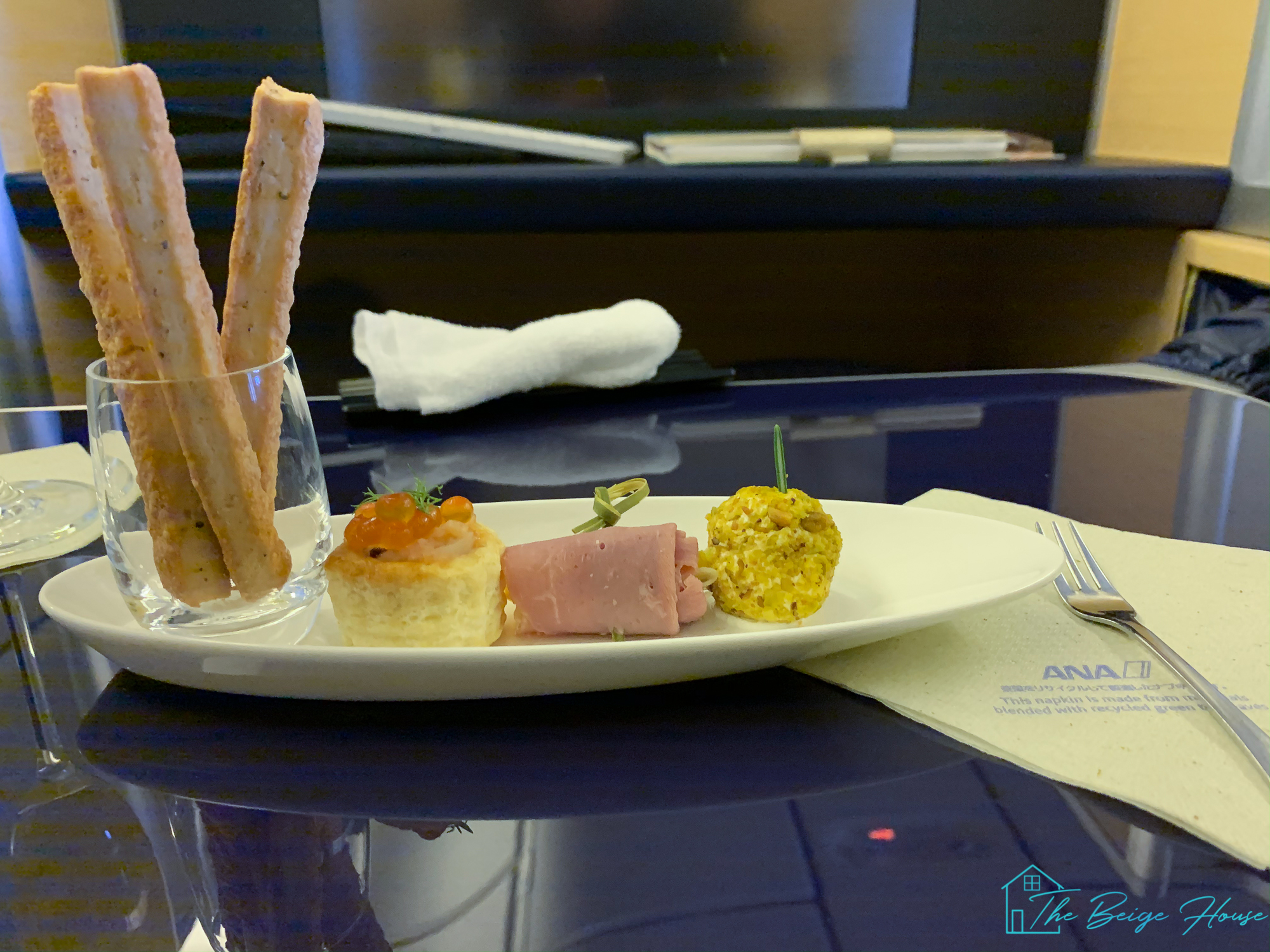 After that I had the Garden Salad with Japanese Apple and Onion Dressing:
The appetizer I chose was Smoked Salmond Rillettes and Lobster with Creamy Lime Sauce: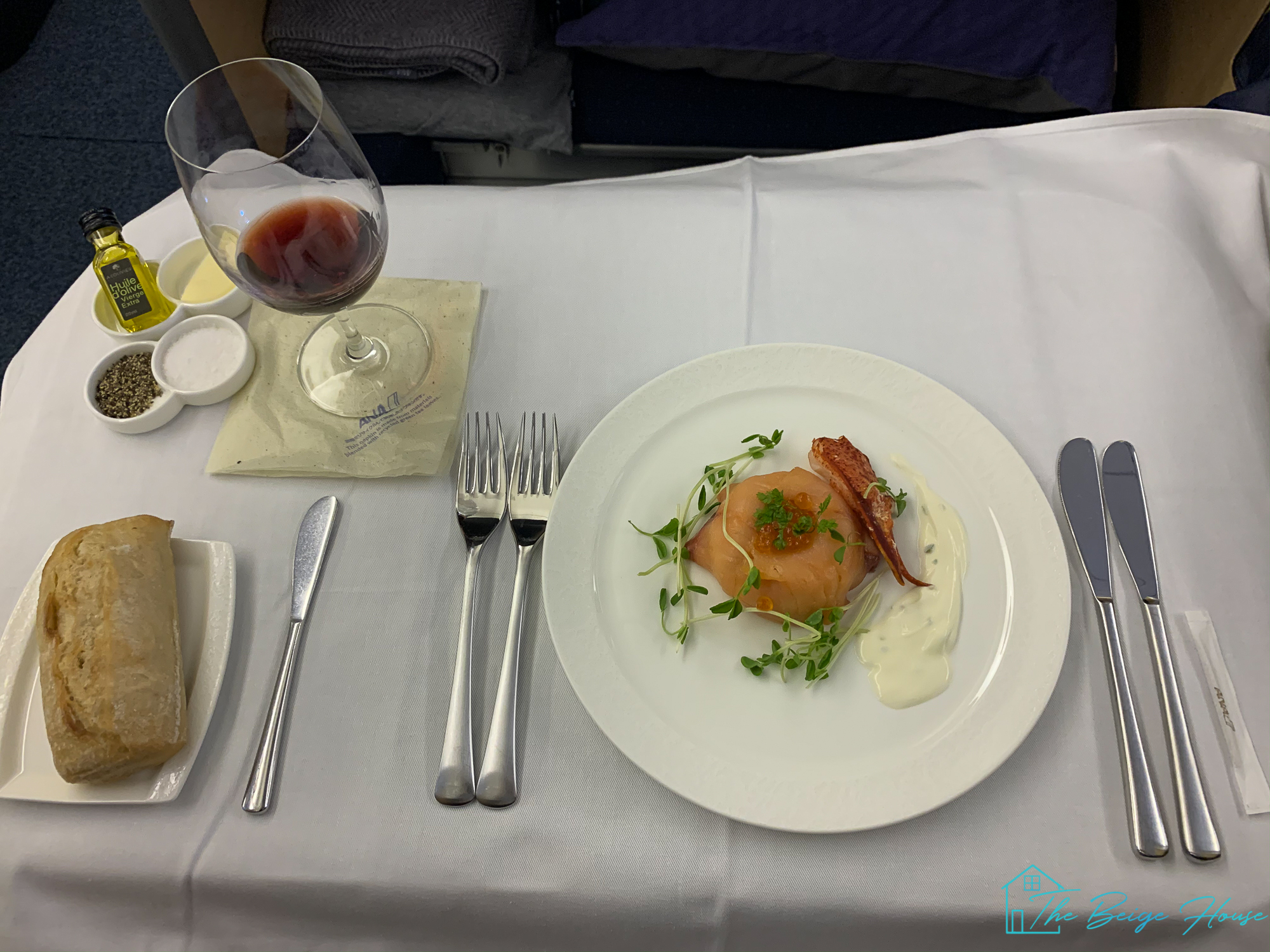 Next, we were served corn soup which I hadn't had before. It was sort of like creamed corn but way tastier. This actually ended up being one of my favorite parts of the meal.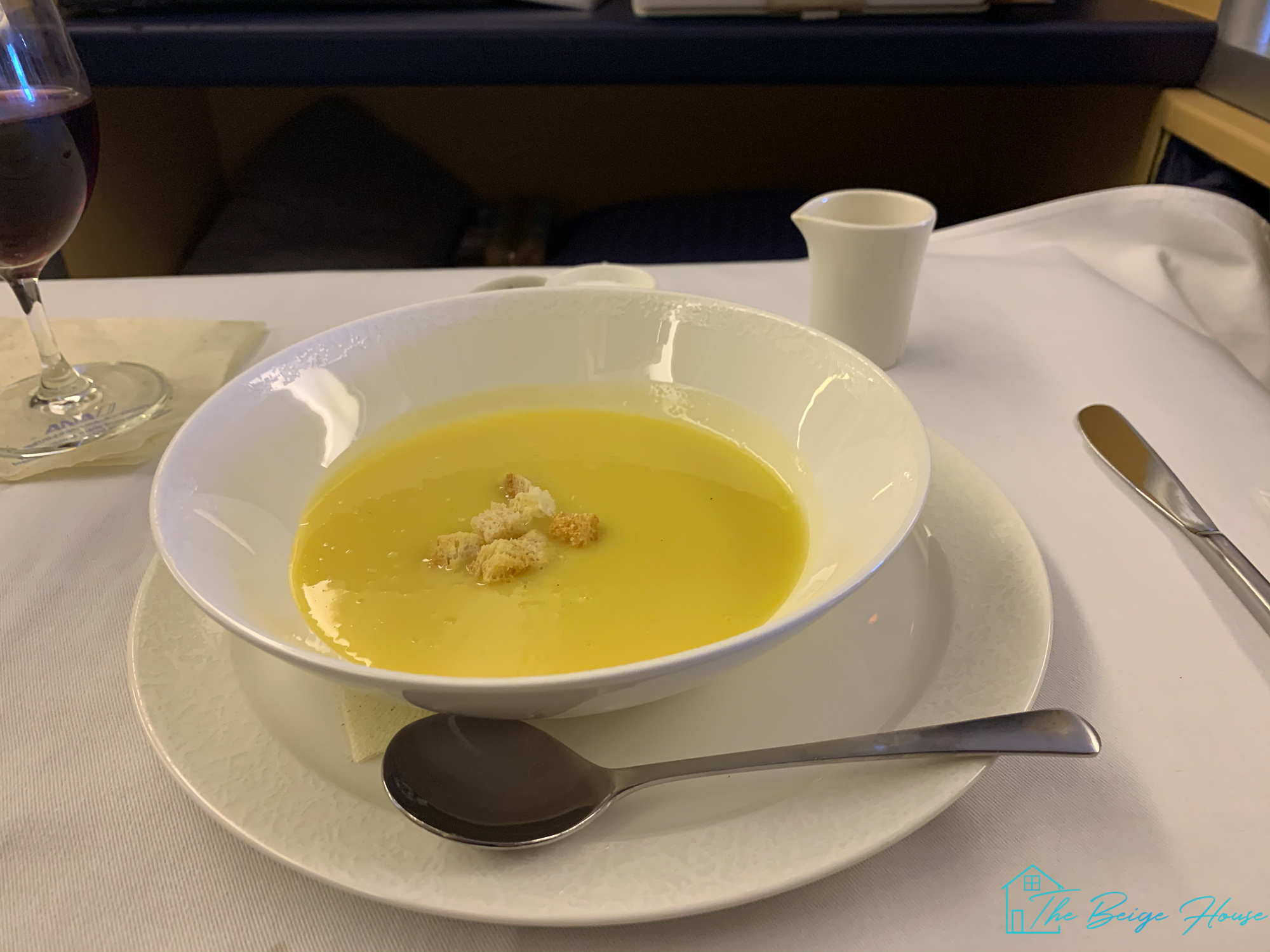 My main course was the Braised Bison in Burgundy Wine with Creamy Mashed Potato. But I can't find the image of it!
Then for dessert, I had a piece of Passion Fruit and Raspberry Cake which was absolutely incredible and haunts me still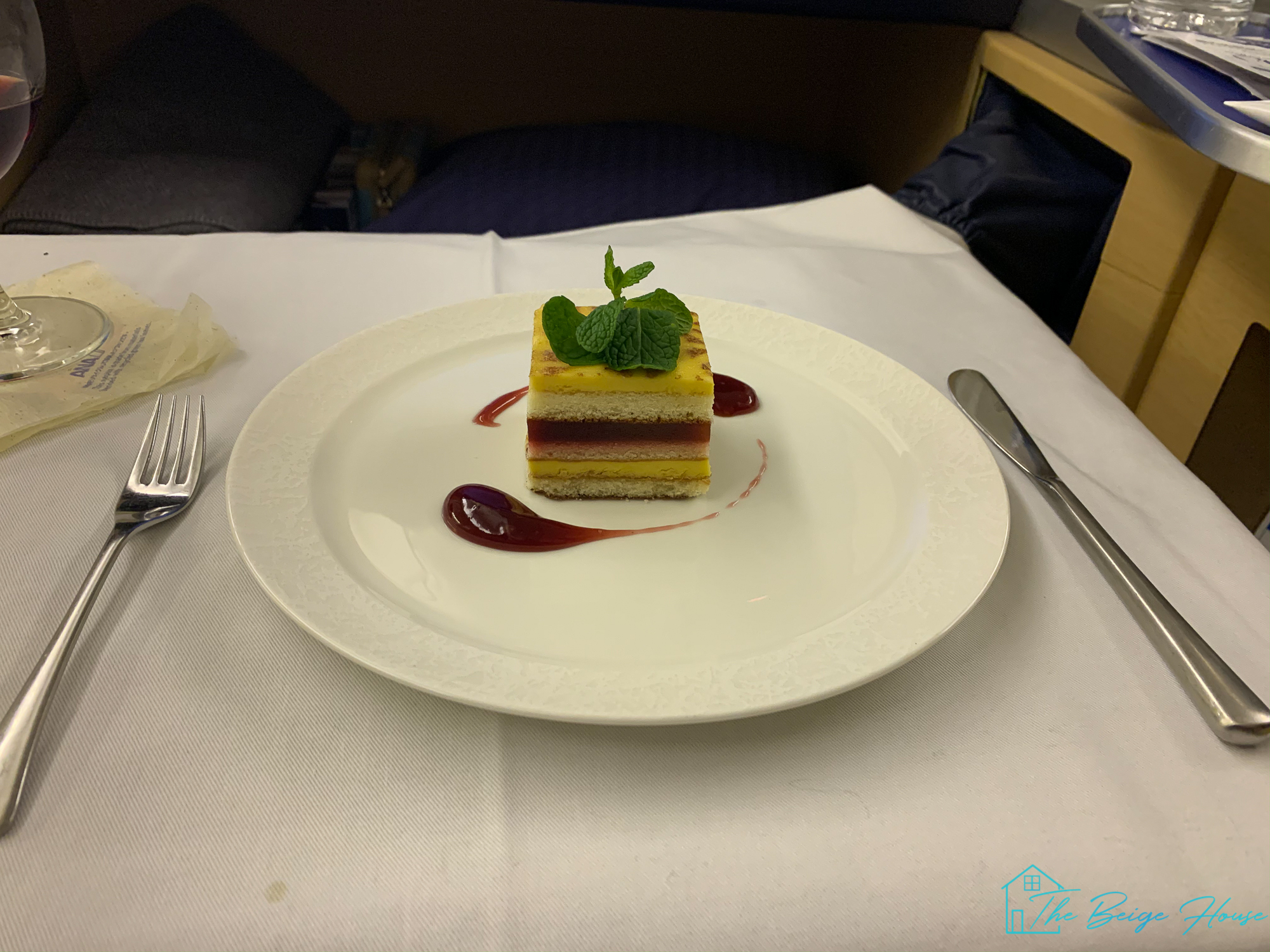 After that, we were given some petit fours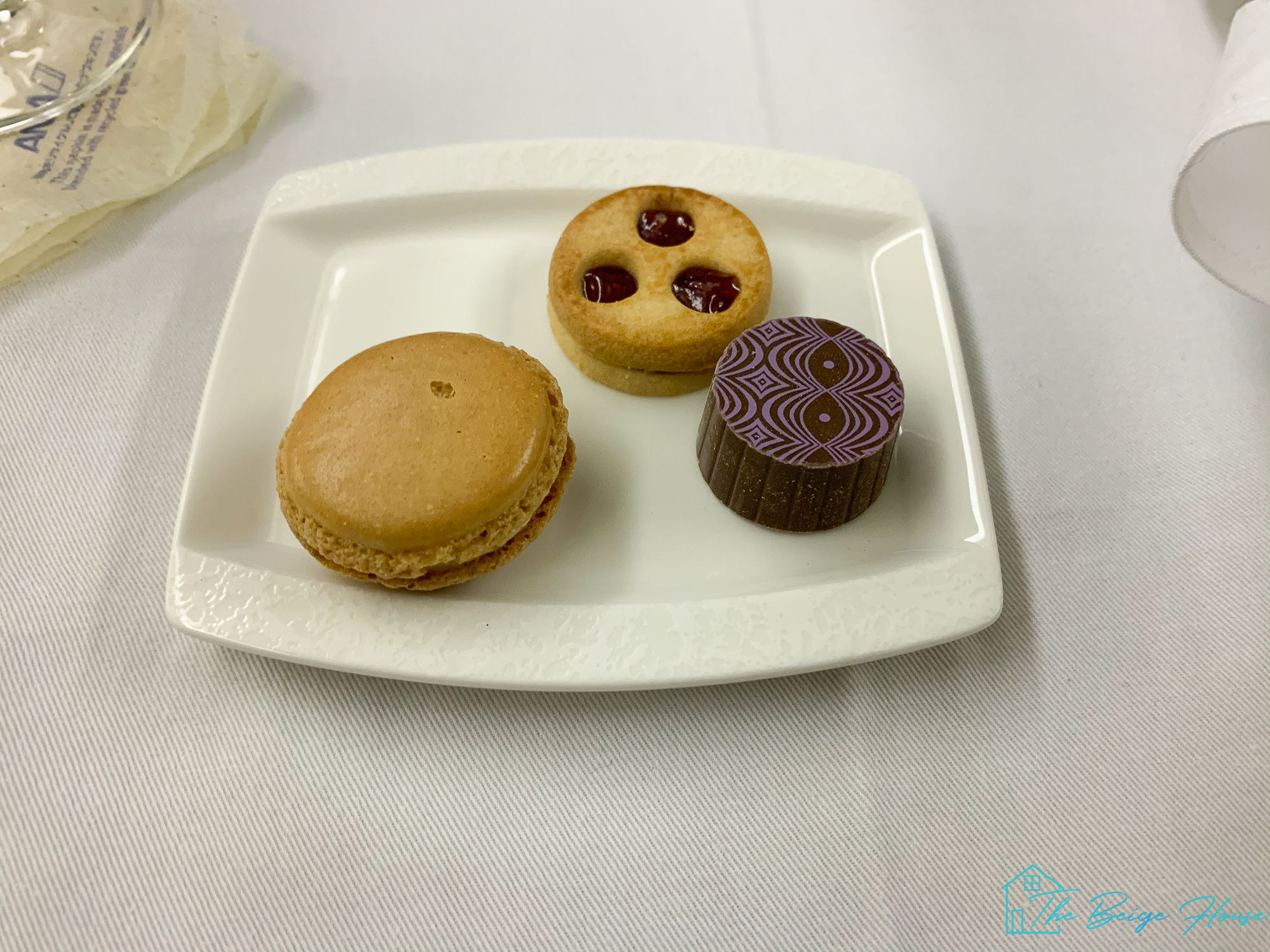 Maybe about 30 – 45 minutes later, the Attendants began setting up the beds for us which involved putting our seats in the "bed" position, setting up a thick sleeping pad, a sheet, fluffy duvet, and pillow (in addition to the pillow we already had).
Steve is 6' 2" so he was worried that he would be cramped in the seat. But he was actually able to stretch out completely!
It was now 1:30 pm our time and the lights were turned out so that we could sleep…which obviously didn't work.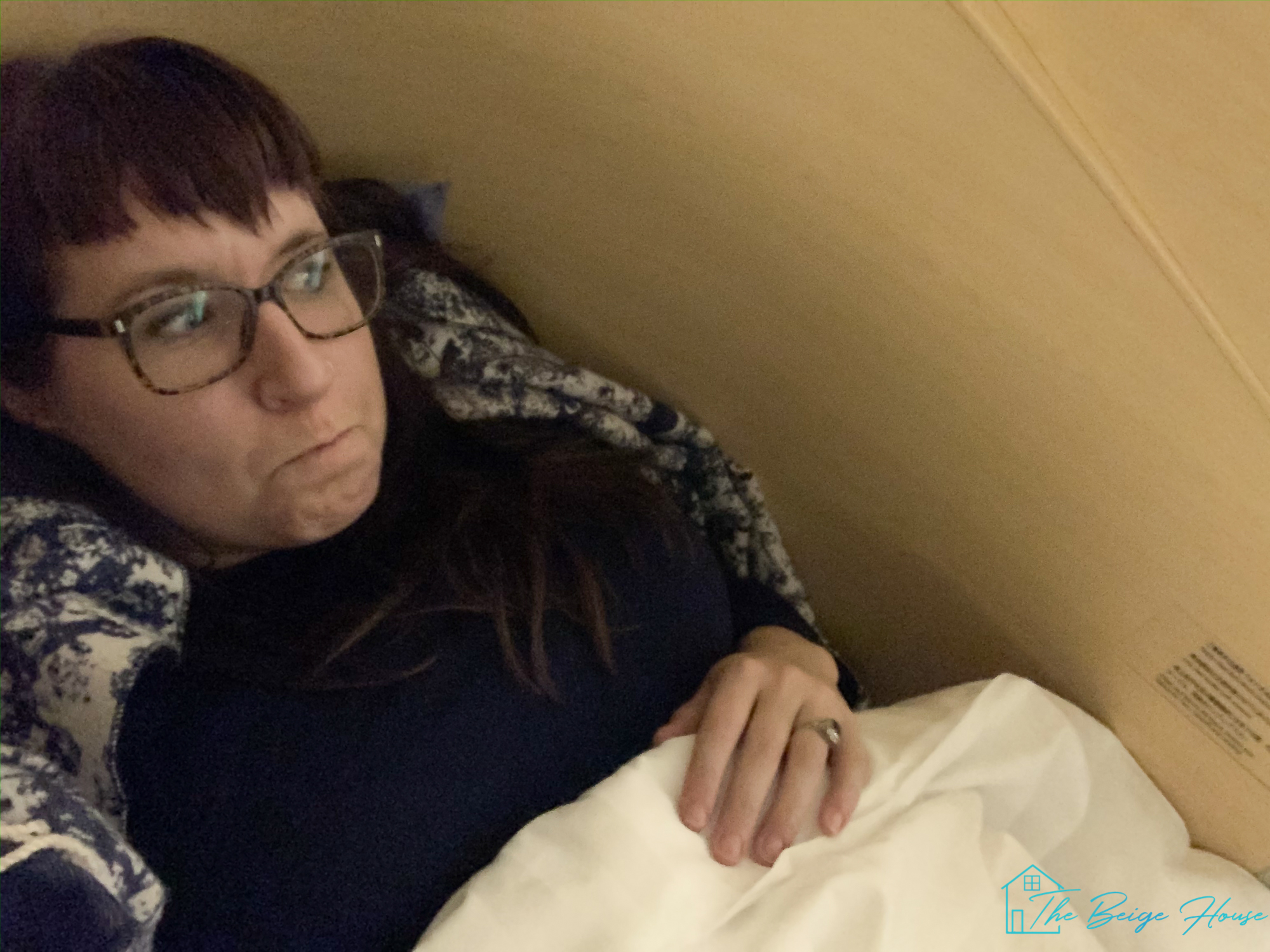 I watched a few movies and ordered some Bailey's hoping that it would make me a little drowsy. But I don't think I did much in the way of actually sleeping.
In addition to movies, I'm also a nerd for the maps features that many flights have so I would watch those a little. Our route to Narita took us up over Anchorage, Alaska and down. The route home was straight over the Pacific Ocean. But what was especially cool was that ANA had a camera on the bottom of the plane so you could watch the flight. Granted, it was just clouds but still, shiny object!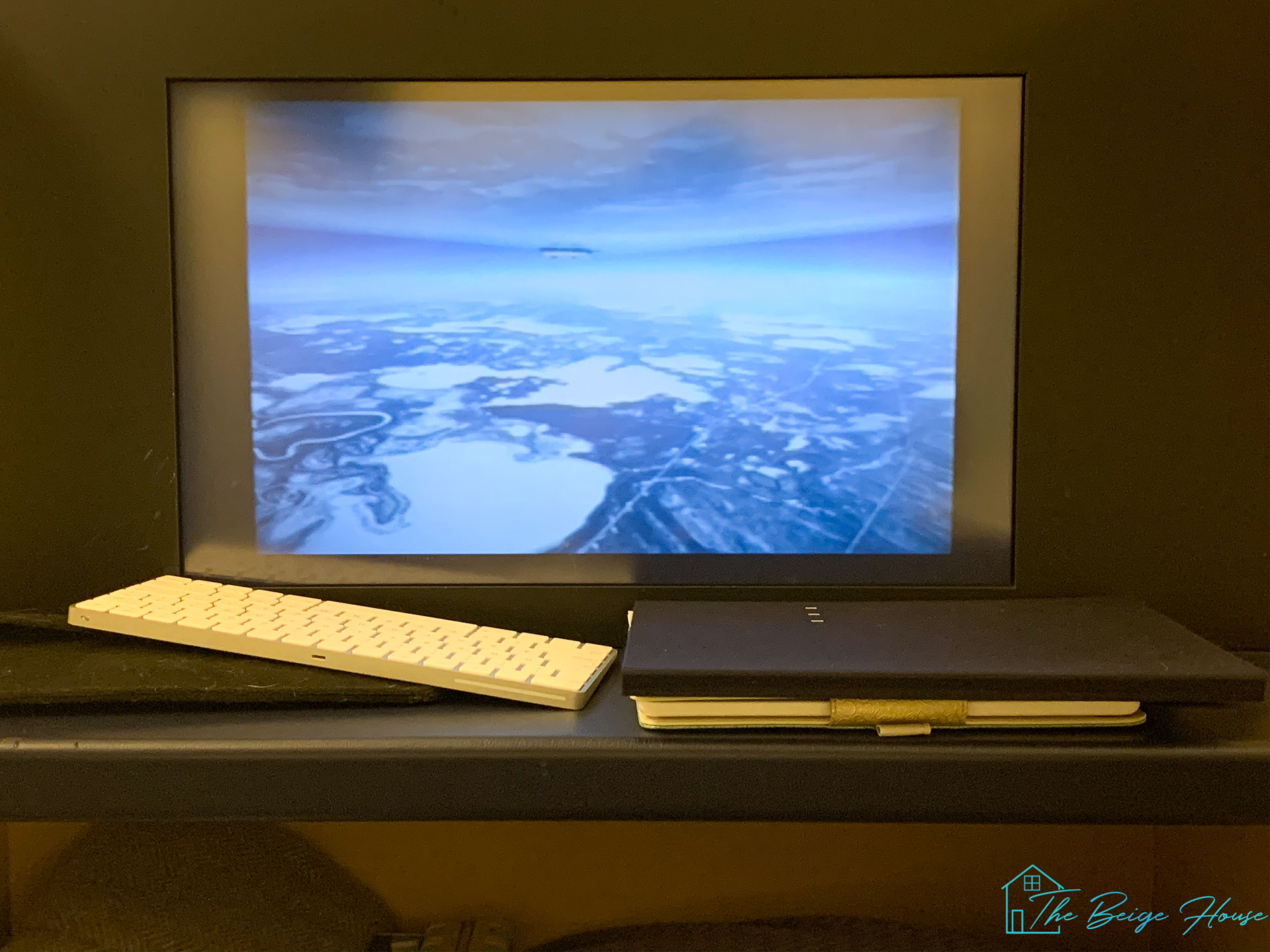 Throughout the flight you were able to order additional menu items from the "light dishes anytime" section. So when I got a little hungry I ordered the Miso Daichi ramen which was KILLER.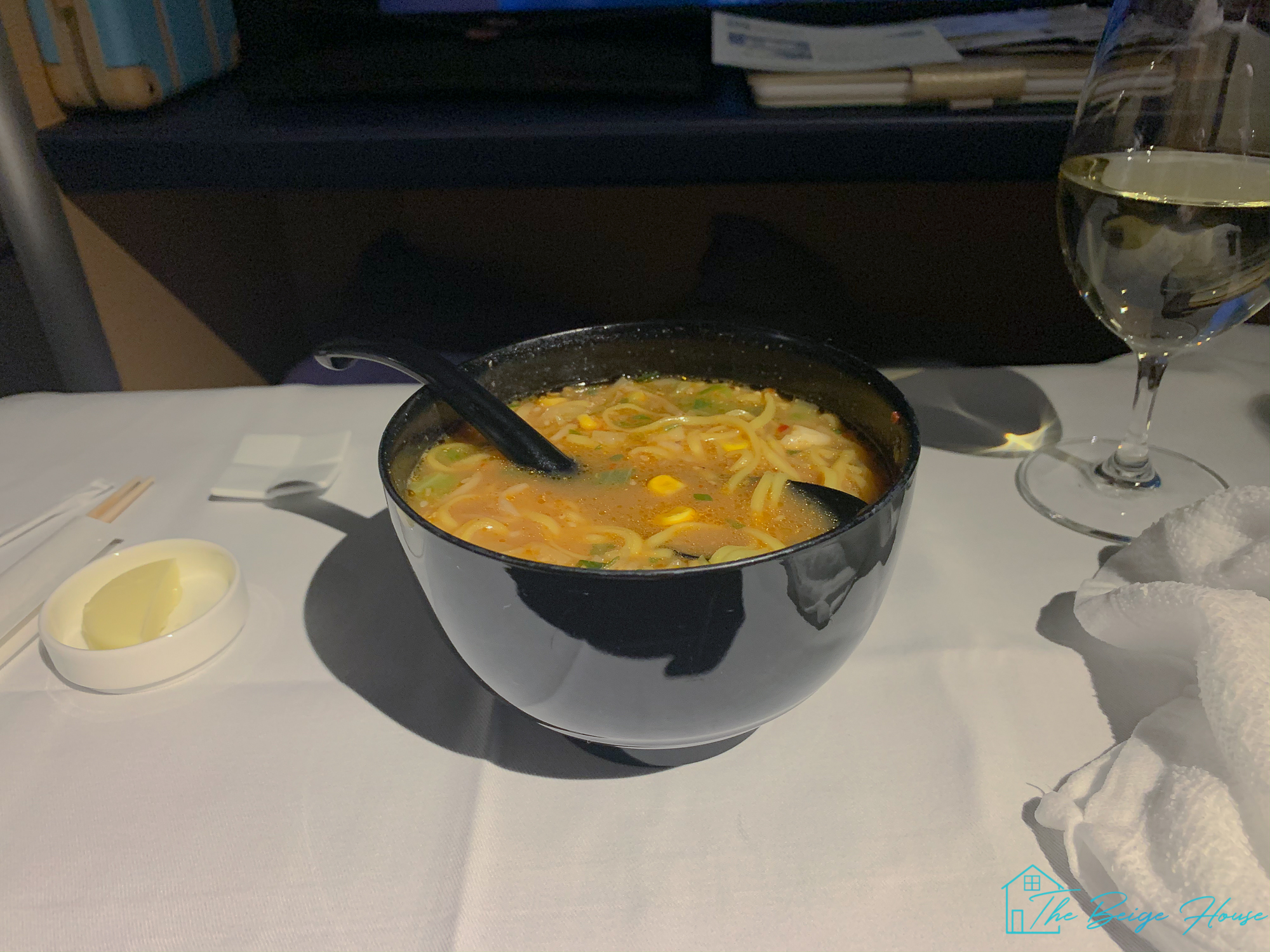 Once "morning" occurred, the Attendants came and removed the bedding and served additional meals for "breakfast". This was also when they (about 3 or 4) came over to my cube to hand me this as a celebration for our anniversary!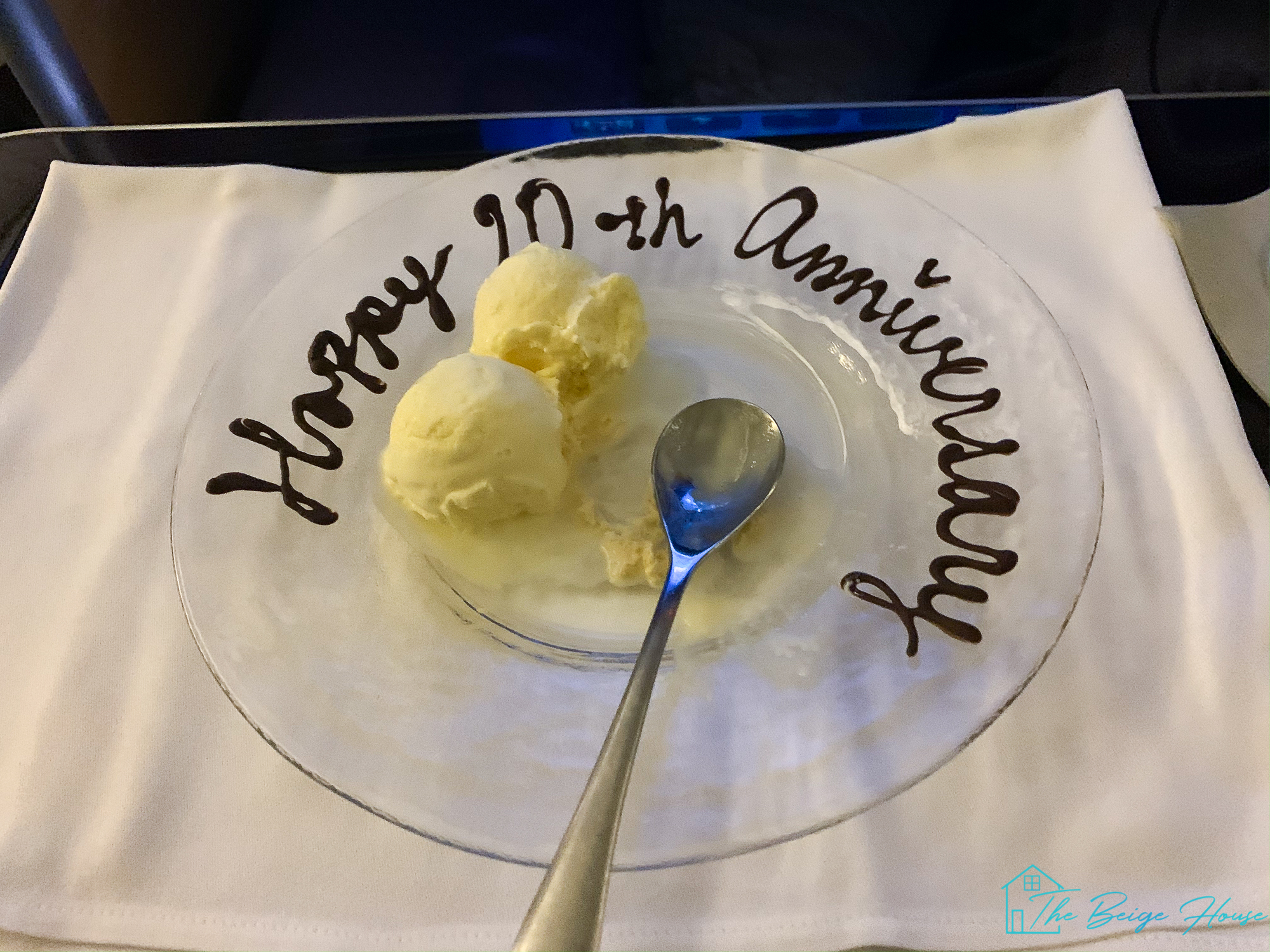 Honestly, I was kinda sad to leave the plane once we landed since it was such an amazing experience. (I can definitely see why it is so expensive.)
The Way Home
Our flight from Narita back to O'Hare involved a little more of the ANA experience.
For starters, the First Class/Diamond check-in happens in a little office area away from the standard check-in counters. Here we were offered hot towels and thanked for flying with them. We were then escorted to a private security checkpoint and then directed to the First Class/Diamond lounge.
The ANA lounges are in the same area in Narita. A bit difficult to find as they're up escalators that are set back in between two gates. To the left side is their standard lounge and to the right is the First Class lounge.
We were escorted to two seats and offered beverages. We then made our way through the food sections which had light snacks, some curry, and assorted pastries. There was also a section where you could order different ramen selections that they would make fresh for you.
The lounge became incredibly packed the longer we hung out there and I suspect I know why:
At around 11 am they announced that their sushi chef had arrived and that he would be hand-rolling sushi for guests who waited in the line. I didn't partake simply because it would've taken about 20 minutes, but still…what a cool feature!
I will say, however, that this is the one place where I felt discriminated against throughout our entire trip.
It's true that there were very few Westerners in the lounge, so maybe that's why. But I noticed that the Attendants would go around to the other guests and refill their drinks or bus their tables automatically. We were mostly ignored unless I reached out to an Attendant walking by. Didn't feel great.
I did doze a little more on this flight than the way there. But we hit some crazy turbulence smack dab in the middle of the Pacific Ocean which was enough for my anxiety to kick in. So I spent the rest of the flight watching movies. (Ad Astra = bad. The Martian, The Secret Life of Walter Mitty = good. Thus ends my movie reviews)
After landing, we got our luggage and headed through O'Hare. A little sad that the trip and all of our niceties had come to an end. Stepping on the shuttle bus which smelled like diesel fumes didn't really help, but whaddyagonnado.
If you have the ability to do so, I absolutely recommend investing in a First Class trip via ANA if only once in your life (which is pretty much our situation). You won't be disappointed!