I first began dyeing my hair when I was in 7th or 8th grade. Back then I tried my best to get it to that Marilyn Monroe level of platinum blonde but never was able to. From there I ended up in varying shades of red, then red + blonde, then rainbow colors. I love rainbow hair because it makes me feel beautiful (and gives me a reason to play with new makeup!)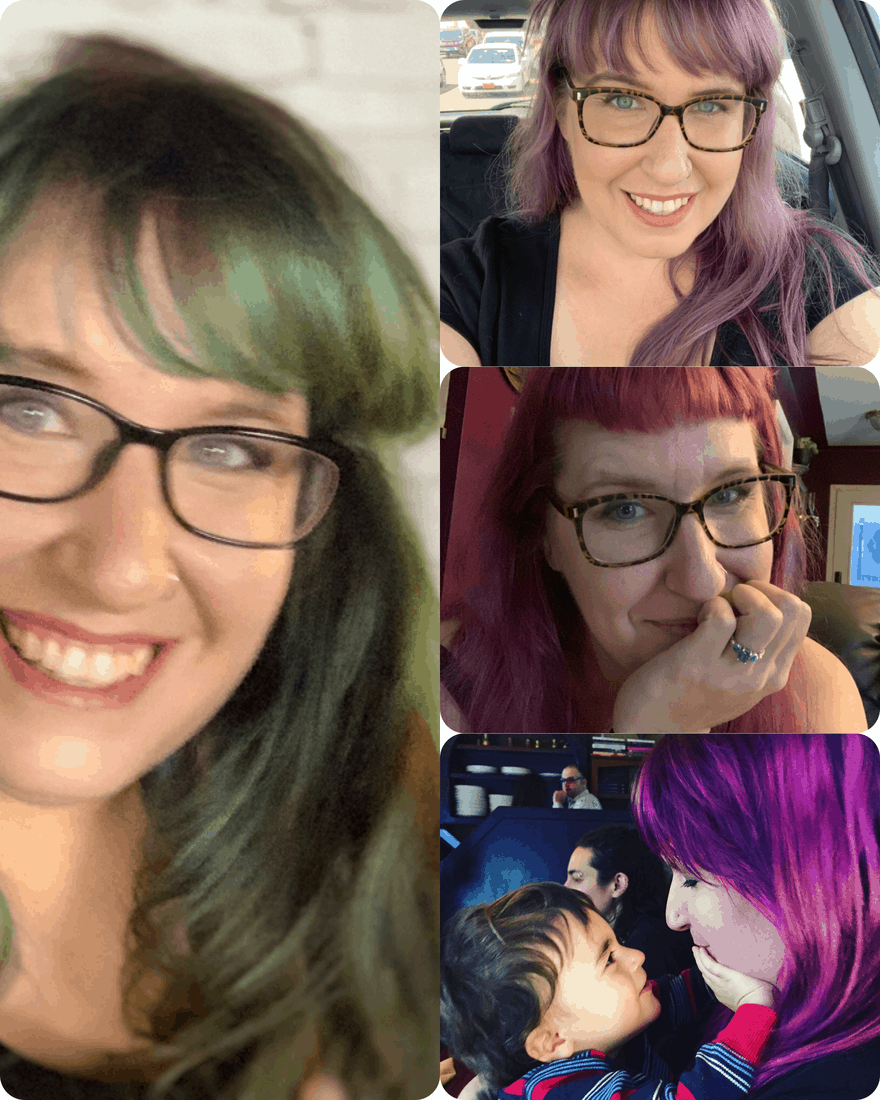 I've been dyeing my hair since the 8th grade with very few breaks since then (the longest record was 2 years letting my hair grow out naturally which resulted in a weird ombré style) and have always loved the way it made me feel: I could completely change my look, style, and honestly…confidence level with a color of my choice. The past 5 or so years, though, I've upped the boldness and have chosen colors that are mostly in the "unnatural" category: purples, blues, and greens. After nearly 20 years having my hair both box dyed and done by professionals, I feel like I can speak with authority on hair dye and maintaining it, so here are some tips I've found along the way when it comes to living with both natural and rainbow hair colors:

1. Test first
I've been guilty of skipping this step, so I get it, but it's really important and can reduce your chances of having allergic reactions, breakages, or burns. The recommendation is to test a small strip of hair first before going through with the full dye job. When I do a test (usually when I'm changing brands or lightening my hair), I'll test a small patch on the back underside of my hair, close to the roots but not directly touching the scalp.
2. Bleach with respect
What I mean by this is to never dive into bleaching your hair willy nilly: understand that bleaching your hair is serious business and could result in a number of issues if not done correctly. Though I've been through a ton of "mermaid hair" colors, I've only bleached my hair 3 times, and each time has involved a ritual of sorts. I let my hair go unwashed for a few days to build up some protective oils, I shampoo the bleach out and then deep condition 2x once I've rinsed out the excess bleach, and I let my hair recover a few days before dyeing it the final intended color.
3. Don't assume bleached hair can be a final look
Look, to each their own, but the "bleached blonde" look is not what actually happens when I've bleached my hair and hasn't ended up as something I'd want to walk around in public with. Normally I end up having harsh yellow tints and remnants of left-over colors (especially if I'm trying to get rid of blue or green), so I pretty much go into hiding while my hair recovers. There are ways around this, if you're looking to finish with a light blonde look and haven't resorted to a standard box dye blonde: hair toners and professionals. I've never used toners so I can't say with authority whether they work in the long term, but if you want platinum hair I'd recommend biting the bullet and paying a pro to make it happen.
4. Plan a long term strategy when it comes to colors
In my experience, red, blue, and green are the hardest colors to get rid of. So if you plan to have your hair in a shade that's hard to get rid of, consider keeping that color for at least a few months.
5. Pick a brand and stay with it
I use Arctic Fox for my actual rainbow colors, but back when I was sticking with "work-friendly" colors, I'd use Garnier Nutrisse colors exclusively (usually Intense Burgundy or Light Intense Auburn). Not because I had any loyalty to them, really, but the prices were good and my permanent color would usually come out looking good. I've heard stories (so I can't say with certainty) that switching brands might result in frying your hair…particularly with Feria? Again, I only heard this from others so I can't say with certainty, but I think in general sticking with one brand of chemical deposits on your hair would be better than switching it up often.
Speaking of "Work-Friendly" here are some ways I've gotten away with having fun hair in a corporate setting:

Dyeing the underside of my hair instead of my top and roots
Using highlights/lowlights and streaks instead of full color
Working in a place that doesn't really care – this is clutch, and I know it's a privilege that some businesses don't offer, but I've found that if my work output was good, for the most part, my bosses didn't really care what my hair looked like. That said, I was normally in an office and in a creative role. So I wasn't often a public-facing person in a conservative company.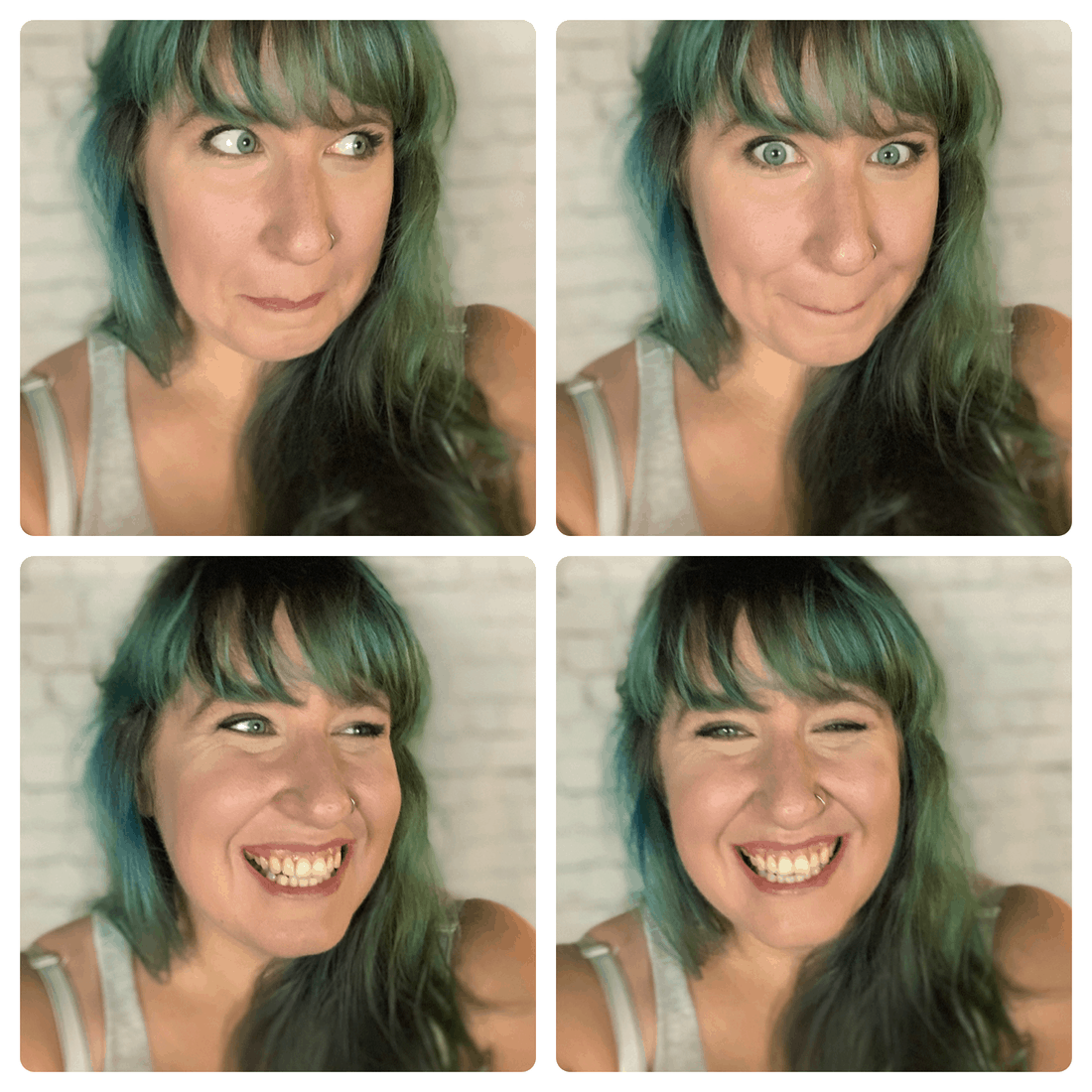 Tips Specifically for Semi-Permanent Rainbow Hair Dye Colors
1. Understand the difference
Semi-permanent and permanent hair dyes do different things. So don't expect semi-permanent mermaid hair to last as long as a box or professional dye jobs.
2. Stick with sulfate-free shampoo
The less abrasive chemicals rubbed into your hair, the better. Try to use shampoos and conditioners that are sulfate-free. I use Argan Oil of Morocco
3. Add leftover color to conditioners
Using a conditioner with hair color can help keep your color looking bright. But if you don't have enough, there are hair conditioners out there that specifically take the work out of this for you.
4. Use conditioners when dyeing your hair to help it spread further
My one complaint about Arctic Fox is that the dye is pretty thick and hard to spread. So I usually mix it with conditioner in my dye bowl to make it go further.
5. Cold showers
This makes me cringe, as I am NOT a fan of cold showers. But the less heat your hair encounters, the longer your color will stay bright. I usually shower with my normal scalding levels and leave my hair dry. Then turn the temperature down and wash my hair and face, then run out of the shower looking for a towel to warm me back up.
6. Invest in Saran Wrap stock (because you're going to keep them in business)
I don't keep shower or dye caps around. So when it's time for my hair to sit with the dye on it, I end up wrapping my head in Saran Wrap and getting work done. Since the dye isn't bleach or permanent, I can sit for hours with it on my hair. I know there are some that sleep with the dye on before washing and I've never gotten that extreme. But keeping the cling wrap on my head helps make sure I don't have to put my neck at a weird angle to prevent the dye from getting on my clothes or furniture. My husband has gotten used to me looking like a Conehead every 6 weeks or so.
7. If you want to do multiple colors at the same time
use aluminum foil strips to separate your hair. That's how I've done anything from my Rogue hair to the purple/blue fade.