If you're interested in becoming a home decor blogger, or a blogger of any kind for that matter, I feel like it becomes a critical step in your journey to start attending industry conferences. I actually wrote a whole series about attending conferences on my other blog because I'm super-passionate about the value they provide. This year, I shucked down to Atlanta, GA for the third year in a row to attend Haven Conference, only this time I had an extra happy reason: I was speaking there!

Haven is sort of like a designer bloggers conference but with an angle of home improvement, DIY, and home decor. In addition to DIY classes involving power tools (my favorite!), the conference also tackles blogging as a business, with classes related to SEO, social media, photography, and more. Plus, it's great to meet other bloggers in the same niche and talk shop; it feels way less of an isolated job when you're able to find a tribe that has the same goals, you know?

In addition, if I can be real here for a second, their gift bags are UNMATCHED when it comes to blogger conferences. Check out this year's stash: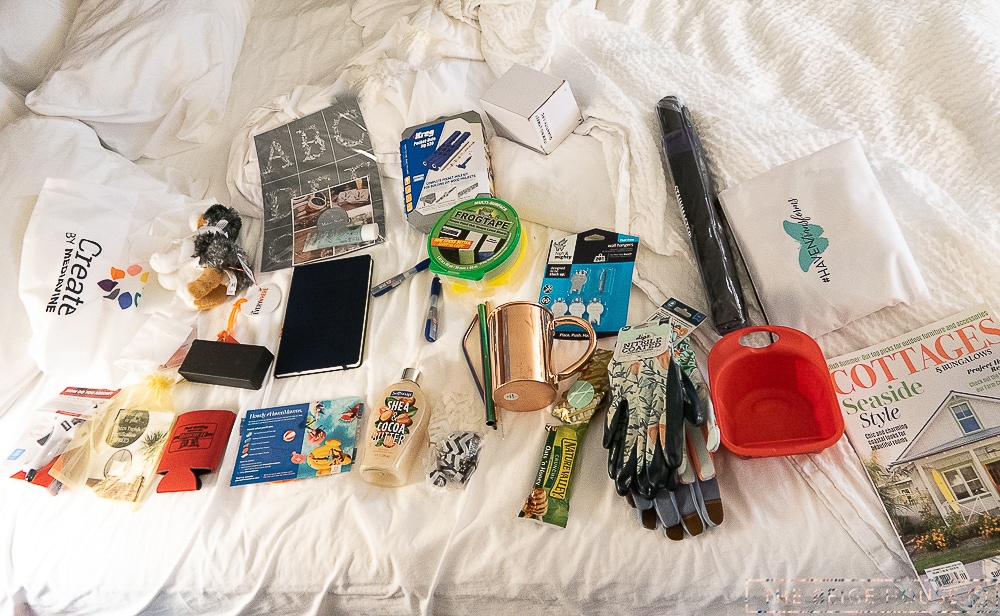 So, the speaking gig. This year, year 3 of attending for me, I was selected to hold a roundtable discussion as the "Marketing Expert" which is just…

I had an idea to do a wee presentation about marketing, but instead, everyone ended up winging it and my table became more or less a hot seat for anyone who had questions or struggles with marketing their business or blogs. It actually has been my favorite speaking gig to date because I got to do what I love: talk endlessly about marketing small businesses!

For the rest of the conference, I bebopped around to different classes (SEO, Instagram, and funnel automation), had a few Moscow mules at the Sinkology booth, and finally overcame my fear of using my pocket hole jig by having the Kreg team do a live demo with me. (Seriously, isn't that a weird thing to be afraid of? Oh well, afraid no longer!)

Tips for Attending the Haven bloggers conference:
Take business cards – A cool trick I've seen is that some bloggers will put their headshot on their cards, helping to associate their blog with their face. I think that's brilliant, especially when you get home and can't remember a thing!
Take an extra suitcase – This is specific to Haven as there have been conferences I've attended that didn't make this part necessary, but there is so much swag and giveaways that you'll become bogged down with goodies on your flight home! I usually put a smaller carry-on that has my clothes into an empty checked bag on the way down, that way I'm not having to track two checked bags on the first leg.
Talk shop! – I love blogger conferences because I've yet to meet someone who isn't just ready to geek out with you and share their experiences. I've learned so much from other seasoned bloggers who were willing to talk about sponsored posts, their businesses, product lines, etc. Very few things are sacred at these types of events, and you learn so much while at lunches or after parties.
Where I Stayed in Atlanta
I didn't end up staying at the hotel the conference is hosted at but instead stayed around the corner at the Courtyard Marriott Buckhead because of my Marriott status. The room was nice and it was fun to play "brooding, moody blogger" on the sofa in my room (also, to eat Five Guys on it, too….but more so the moody blogger thing.)