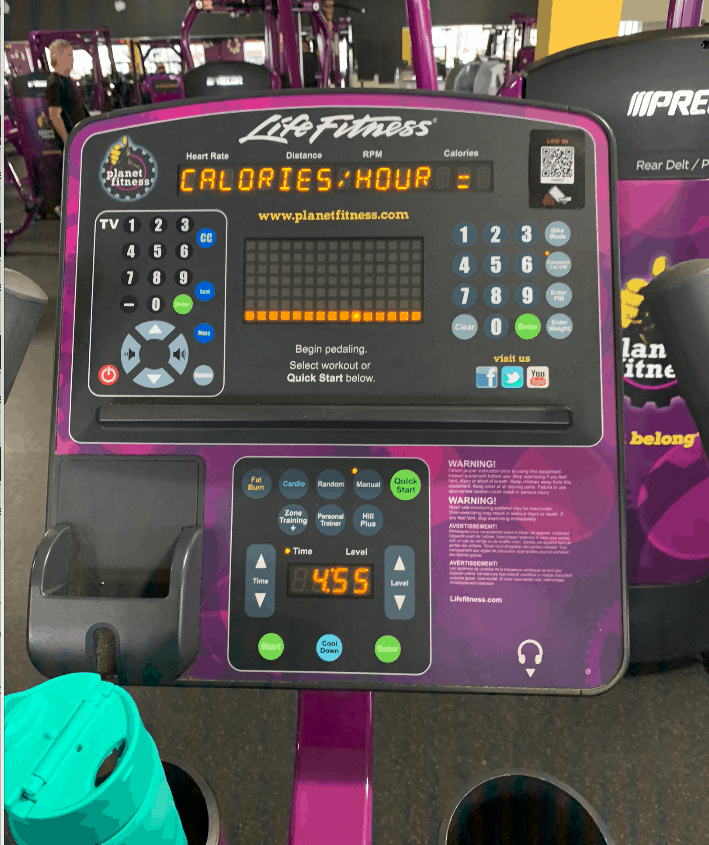 "Wake-up calls" are rarely good things. You don't often get a wake-up call to find out you've been sitting on millions of dollars and your life is fantastic. My wake-up call happened 2 weeks ago. It has sent me down a road that I wasn't prepared for, but am ready to begin (if that makes sense)this 36 Days of an Ultimatum.
My family has a history of high blood pressure, which I guess isn't uncommon these days, but I had been able to avoid the inevitable for a LONG time. And my blood pressure readings were always in a healthy range. And it was one of those things that…are so weird to be proud of, but yet you can't help it. Do you know what I mean? However, I knew I was playing fast and loose with it because of my lifestyle. Every time I got a good reading I admit I had a little bit of a surprised look.
So you can see where this is going. 2 weeks ago I had my yearly physical and my blood pressure pinged higher than normal. Higher than "good". It was 126/92 which isn't traumatic but it was clear that my time of being shitty to myself was now up. I had to either change my lifestyle or go on blood pressure meds.
And I am completely against the concept of going on medication for this. It's like, this non-starter in my head. I know that I'm genetically predisposed to it, and being 36 means I can't outrun it forever. But I also know this is something avoidable, and I am not giving in. I am NOT going on meds and my wake-up call to turn my life around is here.
36 Days of an Ultimatum
I've been speaking about this more on Instagram, but the long and the short of it is this: I have (or had, when I started) 36 days until I go to Tokyo for our 10 year anniversary. And so, I am hitting the gym every day until then to get 30 minutes of cardio in and sticking to a more disciplined way of eating rather than my usual not-even-able-to-be-considered-lazy-keto.
It's a BIG change from my leisurely walk with the dog and is a bit intense I agree. But my 76-year-old Gram goes to Zumba class for an hour every day…so I really have no excuse here.
I have a follow-up appointment in March with my Dr. so I have until then to correct course. But if I can get through these 36 days I know I'll be able to get my numbers down and stop this mess from going on.
Please feel free to follow along with me on my Stories where I'll be doing my check-ins every day to be accountable to you, but I'll also update the blog after Tokyo with my progress and thoughts.
In the meantime, some FAQs I've received:
Which gym did you sign up with?
I picked Planet Fitness because it's close to my house, super cheap (I got a deal of $99 for a year's membership), and is open 24 hours. I used to belong to LA Fitness which was even closer to my house. But I felt intimidated being there (which is so silly, I know) and just rarely felt right. Also, I really like the idea of going any time and not feeling pressured to hit the gym during certain hours. I know Planet Fitness gets a lot of guff for those who lift heavy, but that's not me and it's perfect for what I need.
What are you doing at the gym?
Right now 30 mins on the stationary bike + 5 min cooldown. I always feel clumsy trying to run on treadmills and the elliptical just kills the backs of my legs. So I usually just stick to the bike (though I've been eyeing up the Cybex ARC trainer). I'll probably move on to strength training again if I get bored. But for this gauntlet, I just want straight cardio.
HAES/Fat Shaming
Thankfully I haven't gotten a ton of this, but I've had a few comments in my DMs that have been snarky-adjacent about how I shouldn't feel pressured to lose weight and some people who are taking my health personally. My philosophy on life is: you, do you. For me, I am in a spot where my health is obviously being affected by my lifestyle. And I don't want it. I want to be objectively, medically, healthy. I don't want readings to be in the red, so I am making changes to fix that. My decisions aren't judgments on anyone else's life.
Can I do it, too?
Now this, this has been totally unexpected and has made me a little bit weepy. I started this on Instagram so that I could commit publicly and not let my health stay a secret and therefore let myself get complacent and just give up. What has surprised me, though, are the DMs saying other people are going to do a daily challenge, too! Yes, you can absolutely join me. If you let me know, I'll check-in with you for as long as my own challenge is going to keep you going, too.